September
Active pedagogy that packs a punch
Register now for the 7th annual Teaching and Learning With Technology Symposium.
September 10, 2018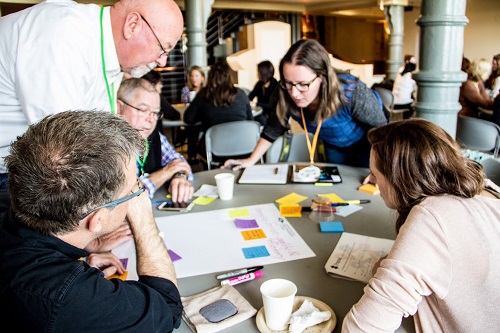 Registration is now open for the 7th annual Teaching and Learning With Technology Symposium on Oct. 5. The free regional event provides a collaborative venue for higher-education professionals to critically learn, discuss and create. The aim is to cultivate a regional network focused on creativity, equity, leadership and the creation of artifacts that inspire and positively shape the future intersection of teaching, learning and technology.
This year's event will once again be interactive, cohort-based and attendee-driven. Instead of a more passive, traditional session and track-based event, TLTS will challenge attendees to think critically, work collaboratively and take an active role in shaping the event. Upon arrival, attendees will select from the range of crowdsourced topics focusing on the day's collective work. To help organizers identify the most relevant topics, visit the New Topic Board to add a topic for discussion.
"Most conferences provide valuable information through presentations and materials but are primarily passive experiences," said Matt Griswold, Metropolitan State University of Denver director of online programs. "TLTS is created by attendees. They devote their collective energy to group-selected topics of interest and urgency in postsecondary education."
Sean Michael Morris — a writer, speaker and consultant specializing in critical pedagogy, learning design and social justice — will be the 2018 keynote speaker, and higher-education pedagogy expert and documentary filmmaker Jesse Stommel will join as lead facilitator.
Other highlights will include the involvement of Karina Branson of Conversketch, who will join the event to create a visual artifact, archive and story map of participants' collective thinking and learning. Attendees can continue their conversations at the post-symposium social from 5 p.m. to 7:30 p.m. in the Tivoli Taproom.
Teaching and Learning With Technology Symposium

Registration is required by Sept. 21.

Oct. 5, 7 a.m.-5 p.m.

St. Cajetan's Event Center
Edit this page