September
5 events you won't want to miss
September offers opportunities to support students, applaud faculty and staff, and honor fallen firefighters
September 6, 2018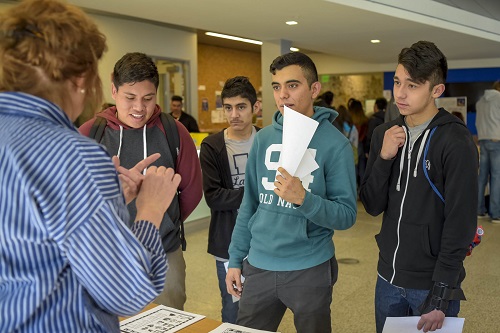 Can you believe it's already Sept. 6? If your month is flying by, take a moment to get these can't-miss events on your calendar.
Sept. 11
Join President Janine Davidson, Ph.D., in remembering firefighters who died while attempting to save others during the Sept. 11, 2001, terrorist attacks by participating in the 2018 Colorado 9/11 Memorial Stair Climb. Proceeds will support the National Fallen Firefighters Foundation fire-service survivors programs. Participants are encouraged to register on Team MSU Denver and contact Emalie Whan-Traylor for more information.
8:45 a.m.
Red Rocks Amphitheater
Sept. 12
Shakespeare in the Parking Lot
The Denver Project for Humanistic Inquiry will host a performance of "Romeo and Juliet" presented by Shakespeare in the Parking Lot followed by a student-led discussion with the cast and director. Faculty and staff are welcome to attend, and the performance offers faculty a way to expand their teaching beyond the classroom and connect students to Denver's cultural scene. Faculty members who would like to bring their class to the event can contact Adam Graves for more information.
2-3:15 p.m.
Tivoli Commons Band Shell
Sept. 13
CMEI Student Welcome
The Center for Multicultural Excellence and Inclusion Student Welcome event helps fledgling Roadrunners, and especially students of color, connect to the MSU Denver community. The event will include tabling, music and food. Faculty and staff are welcome to attend and are encouraged to help promote the event.
10 a.m.–2 p.m.
St. Cajetan's Event Center
Sept. 13
The LGBTQ Student Resource Center turns 25 this year, and you are invited to help celebrate its impact on the Auraria Campus. The event will include cocktails, food, games and dancing, and attendees are encouraged to dress to impress in their finest silver-and-purple attire.
6:30-9 p.m.
Tivoli Turnhalle
Sept. 26
The GITA Community Awards celebrate Roadrunners who have enhanced the campus community with their outstanding contributions. The event also helps fund scholarships that support social activists, students affected by interpersonal violence, students with a migrant-farmworker background and those who have dealt with a life-threatening illness or injury. Drinks, hors d'oeuvres and entertainment will be provided, and attendees are encouraged to RSVP.
5 p.m.
St. Cajetan's Event Center
Edit this page