September
Early Bird chirps
Faculty and staff have provided great feedback on Early Bird stories over the past month. Here are a few of our favorites.
September 5, 2018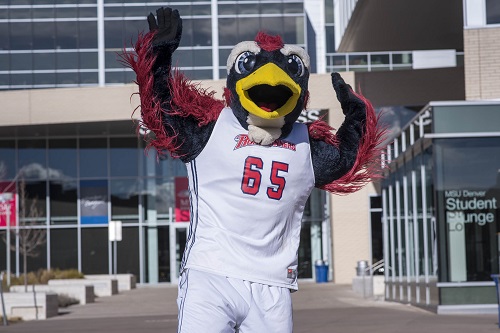 Metropolitan State University of Denver faculty and staff are full of inspiring ideas. In addition to great submissions for the Kudos and Faculty Citings series, Early Bird stories have prompted interesting and helpful feedback. To ensure that these thoughts and comments become part of the larger campus conversation, read on.
Even more employee perks:
In addition to these great deals, MSU Denver faculty and staff receive a 10 percent discount at Fat Jack's Sub Shop at 902 Ninth Ave. and a 10 percent discount at Brooklyn's, 901 Auraria Parkway. Diners should note, however, that the Brooklyn's discount is not valid after 4 p.m. on days the Pepsi Center is hosting an event.
Employees can also access the Credit Union of Denver in Suite 263 of the Tivoli Student Union and the Public Service Credit Union in Suite 230.
Finally, faculty and staff receive two tickets at the box office with their employee ID to any Roadrunner Athletics event, and admission for children under age 5 is always free.
Thank you to those who shared these additional perks!
Bonus student-retention tips:
We asked for a few more student-retention tips, and two excellent perspectives landed in the Early Bird inbox. Keep them coming!
Brandi Scott, associate dean, Equity and Student Achievement
It's important for faculty and staff to be mindful of our students' identities and the experiences they bring with them to college. Forty-eight percent of our students are first-generation to college and may have lots of questions. It helps to be thoughtful about our assumptions and language — and to avoid acronyms.
Also, 42 percent of our students identify as students of color. It is important for faculty and staff to continue our learning and understanding of racial justice so that we are creating inclusive classrooms that support students experiences and identities. The Center for Equity and Student Achievement houses multiple programs/centers that provide services and space for students to feel comfortable and affirmed for their identities. When sharing information about campus resources, be sure to include information about the Center for Multicultural Excellence and Inclusion, Brother-to-Brother, TRIO Student Support Services, EPIC Scholars and Immigrant Services. If you want suggestions about readings and professional development opportunities on these topics, feel free to contact CESA.
Elizabeth Kleinfeld, director, Writing Center
We can set students up for academic success when we acknowledge that writing assignments have their own special language. Students don't always know that instructors mean something very different when they ask a student to "respond" to an article versus "analyze" it. Connecting students early to the Writing Center will help them build their writing processes.
We hear from many seniors every year who say they wish they had known about the Writing Center sooner because their writing would have been much less stressful and of higher quality had they been coming to us all along. Helping students learn how to manage large writing projects can lead to better writing and also the development of better writing processes that will serve students through their entire college journey. If you have students who could use support in their writing, please refer them to an upcoming Writing Center seminar.
Sept. 12, 3:30 p.m.: Understanding Writing Assignments
Oct. 17 3:30 p.m.: Managing a Large Writing Project
Oct. 30, 3:30 p.m.: Citing Sources in APA Format
Nov. 6, 2 p.m.: Writing a Paper for Your Psych Class
Nov. 15, 2 p.m.: Therapeutic Writing
A helpful suggestion:
One reader chimed in to say that the Early Bird Archive needs a little promotion. If you miss an edition, you miss a lot, so visit the Early Bird main website or the archives to catch up.
Edit this page