August
What a view
MSU Denver's 2018-19 Viewbook is available, and Roadrunners are looking good.
August 21, 2018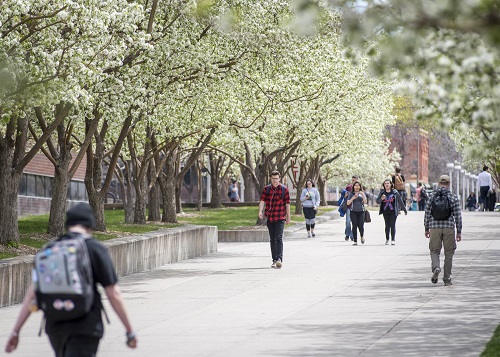 Here are some fun Metropolitan State University of Denver facts:
MSU Denver remains Colorado's most affordable four-year public university.
MSU Denver has developed student internships at 732 companies and organizations.
MSU Denver holds the title of top destination for transfer students in Colorado (and made the Phi Theta Kappa Transfer Honor Roll).
If that doesn't give you a sense of Roadrunner pride, check out the newly released 2018-19 MSU Denver Viewbook.
The Viewbook highlights all the ways MSU Denver is meeting its mission of attracting and graduating a diverse, primed, entrepreneurial, purposeful and tenacious student body. The online version includes everything prospective students and their families might want to know about academics, athletics, admissions, housing and more — along with profiles of Roadrunner alumni making their mark on Denver and beyond.
To snag a hard copy of the Viewbook with even more information and English and Spanish student testimonials, visit the Office of Admissions front desk.
Edit this page