August
How conversations with colleagues can change your teaching career
Two Center for Teaching, Learning and Design faculty learning communities are designed to make you a better educator – no matter your subject.
August 20, 2018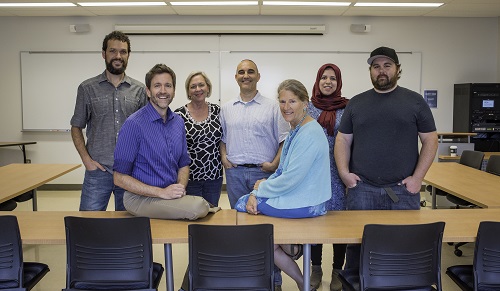 Think of Metropolitan State University of Denver's Center for Teaching, Learning and Design as an incubator for instructional greatness. The recently renamed CTLD is dedicated to providing professional learning resources and activities designed to help faculty flourish – and this year's roster of events is packed with relevant, impactful offerings.
The CTLD's faculty learning communities help enthusiastic and energized CTLD staff and collaborators connect faculty to valuable resources. Two prime examples are FLCs on the topics of Open Educational Resources and instructor presence in online courses.
The "Effective Teaching Using Open Educational Resources" FLC will focus on how open educational resources can add an innovative dimension to courses while also increasing student retention. The FLC is co-facilitated by chemistry Associate Professor Emily Ragan, Senior Instructional Designer Taylor Kendal and Ellen Metter, research-support librarian for the Auraria Library. The team will guide faculty in building enthusiasm for OER use in the classroom. Ragan will share her experience using OER in her General Chemistry I course, Kendal will offer perspectives on instructional design, and Metter will explain how the library can serve as a partner in helping faculty find high-quality OER. Contact Ragan if you are interested in participating, and watch the promotional video to learn more.
Facilitated by Becky Cottrell, a lecturer in the Modern Languages Department, the "Increasing Meaningful Instructor Presence in Online Classes" FLC helps faculty do just that. The FLC brings together new and experienced teachers to share best practices on online teaching and delivers skills that educators can immediately put into practice. Cottrell shares her inspiration and motivation for developing the FLC in this promotional video. Those interested in participating can email Cottrell for more information.
These two FLCs represent just a sliver of what the CTLD has in store for the coming year. Check out the full list of workshops and events to see how you can become a better, more confident and more effective educator.
Edit this page