August
Wear "I'm First Gen Too" gear Monday
Faculty and staff who were first-generation grads can pick up shirts and buttons from SSB 430.
August 16, 2018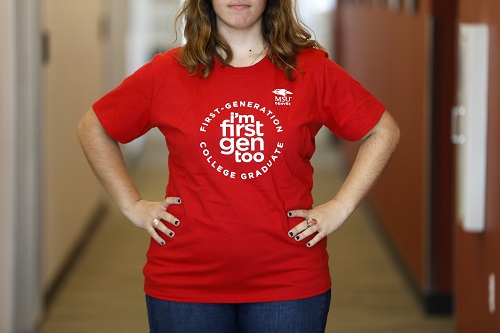 In the spring semester, Metropolitan State University of Denver launched the "I'm First Gen Too" campaign to celebrate the large number of first-generation students on our campus and the faculty and staff who share that identity.
For those faculty and staff who already got T-shirts or buttons, we ask that you wear one (or both) on Monday, the first day of classes. If you are a first-gen college graduate and don't have a shirt or button, you can pick one up from the Marketing and Communications front desk in Room 430 of the Student Success Building.
Beyond coordinated shirt-wearing, there are many efforts to support MSU Denver's first-gen students on campus.
Colleen Toomey was named the coordinator of First-Gen Initiatives in the Center for Student Equity and Achievement in the spring.
The Business Intelligence team discovered a more accurate way of calculating the percentage of first-gen students on campus, and that number jumped to 48 percent, or 8,720 students in the spring semester.
A survey of MSU Denver faculty and staff revealed that more than half of MSU Denver employees are first-gen college graduates themselves.
First-Gen Initiatives held optional information sessions at Student Orientation Advising & Registration and reached 467 students this summer and partnered with Admissions to create monthly First-Gen Visit tours just for first-gen students and their families.
Roadrunners First trainings are continuing this fall to help equip faculty and staff with ways to better serve first-gen students. The trainings are scheduled for Sept. 7, Oct. 9, Nov. 9 and Dec. 18 with times and locations to be announced. Departments can also request in-house trainings for their employees.
First-Gen Initiatives will hold workshops for first-gen students on academic and life skills throughout the fall semester.
For more information about MSU Denver's first-gen population or initiatives, contact Toomey at ctoomey1@msudenver.edu.
Edit this page