August
Award-winning excellence: Ali O'Brien
Teaching Excellence Award recipient talks about educating the next generation of educators – in her former classrooms.
August 15, 2018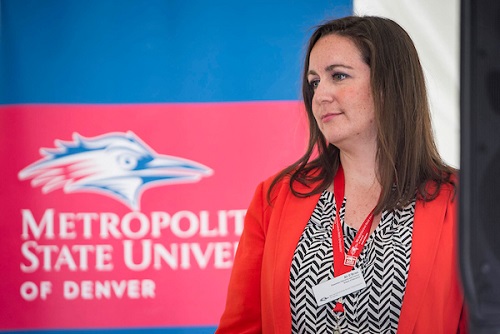 We wrap up our showcase of Faculty Senate Teaching Excellence Award winners with Ali O'Brien, lecturer of literacy/residency site coordinator for teacher education in the School of Education and TEA winner for Category II faculty members.
Don't forget about the Center for Teaching, Learning and Design's Teaching Effectiveness Institute tomorrow, Aug. 16, and catch up on our previous profiles of Sue Barnd, Christopher Keelan and Corey Sell.
What does it mean to you to win the Teaching Excellence Award?
(It) means everything. Being a teacher is hard. We all know it and live it. It can cause doubt and worry that we aren't doing enough for our students or our teaching ability is lacking to meet their needs.
This anguish and concern keeps me up at night, and it has made me question my competence in this field, so to be a recipient of this award is affirmation that I chose the right path. That I am good enough and that any misgivings I had before were unfounded; that I have made an impact in some way.
Could you tell me about your background and what drew you into teaching?
I am a former elementary-school teacher in both Jefferson and Douglas County public schools. What drew me to teach elementary school was to make a difference in my students' lives not only academically but emotionally as well. I wanted my students to feel good about learning and that the struggle is actually a powerful moment which could help them succeed in life.
After five years in the elementary classroom, I was drawn into collegiate-level teaching in the School of Education because I felt I had more to give to adult students seeking to be teachers themselves.
What inspires you?
I am inspired by MSU students because they come with a rich range of backgrounds, experiences and future goals. Every day, these students are what excite, encourage and challenge me. I am honored to be a part of providing nontraditional students, including many first-generation college students, the opportunity to succeed.
MSU Denver student-teacher candidates are what our K-12 education system needs today. They are global thinkers, and their diverse backgrounds meet and represent the needs of our present schoolchildren. The students in my classroom have innovative ideas and techniques that make me thrilled for my own children to be molded and mentored by these amazing teachers.
What's one day on campus you'll never forget?
A day on campus that I will not forget is the day of the TEA ceremony. I never thought it was possible for me to win a teaching award. To be recognized, honored and selected by my peers was both incredible and shocking. We have such an unparalleled faculty at MSU that to stand before them was praise beyond measure.
What does it mean to you to be a Roadrunner?
Being a Roadrunner means a lot to me. I am an alumna of the class of 2007. To be back at the place that made me the teacher I am today gives me the chance to pay it forward to the next generation of educators.
To teach in the same classrooms I learned in is moving and motivating. For me, being a Roadrunner is a great responsibility that I take seriously because I want my students to have every opportunity to succeed that I have been afforded.
The first Faculty Senate meeting of the 2018-19 academic year takes place Aug. 22 at 3:20 p.m. in Tivoli 320.
Read more about CTLD's name change and services available to faculty members here.
Edit this page