August
Faculty trustee: Christopher Harder
Assistant professor of mathematics to focus on advocacy, communication and relationships to benefit students.
August 13, 2018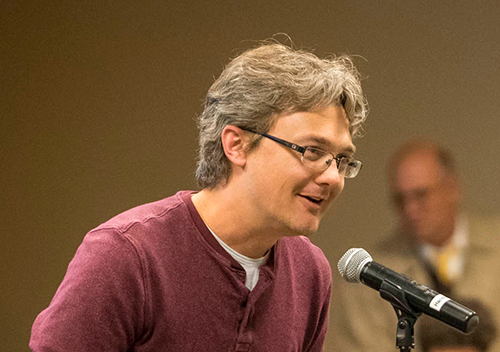 Metropolitan State University of Denver's Board of Trustees welcomes Christopher Harder, Ph.D., as the new faculty trustee.
"I look forward to working with Dr. Harder in this role; his work on the Faculty Senate and on general studies' curriculum and assessment have demonstrated his commitment to ensuring we provide our students the highest-quality education possible," said Vicki Golich, provost/executive vice president of academic and student affairs.
The assistant professor of mathematics sees his top priority as representing faculty voice to the Board and plans to place relationships at the heart of the role, reinforcing open lines of communication to advance points of advocacy.
"One message I have heard consistently through my time at MSU Denver has been that pay and workload are extremely important to the health of the University," he said. "There's a need to continue building on the positive work that has already been done on this front."
In addition to being a calm and trusted yet urgent voice for faculty members, Harder also expressed the importance of celebrating the passion and achievements of the Roadrunner community.
"I believe it is important to relay just how much faculty care for the quality of the education MSU Denver provides," he said. "There should always be a focus on what we do and what our students accomplish."
Golich echoed these sentiments, adding: "(Harder's) work in the Department of Mathematics and Computer Science parallels this commitment to excellence, adopting pedagogies appropriate to our student population."
The first Board of Trustees meeting of the 2018-19 academic year will be Sept. 13-14.
This article originally appeared in the May 22 issue of the Early Bird.
Edit this page