August
12 years of leadership
Empowering faculty, building community connection, research and the arts: former CLAS Dean Joan Laura Foster, Ph.D., in her own words.
August 9, 2018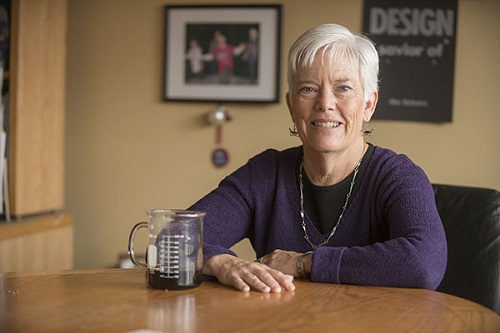 Joan Laura Foster, Ph.D., accomplished much during her 12 years as dean of Metropolitan State University of Denver's College of Letters, Arts and Sciences, including being named 2018's Philanthropist of the Year. As she prepares for a different role, the Early Bird asked her to reflect on her time at the CLAS helm and what the future might hold.
When you were first appointed Dean, what was your goal and how did you work toward it?
When I became dean, the College of Letters, Arts and Sciences was already very strong. My goal was to build on that strength, to increase the intellectual, creative and cultural climate of CLAS – and thus, that of the entire institution.
I was fortunate to oversee the rebuilding of our outstanding faculty with the hire of 211 tenure-line personnel (making up 62.5 percent of the college's instructional body) and many outstanding Category II and affiliate faculty members over 12 years. We worked to run fair searches that would attract diverse faculty and staff, and 26 percent of CLAS tenure-line faculty that were hired while I was dean identify as faculty of color.
Additionally, we were able to hire more staff during this period, including departmental support staff and advisors. They have been essential to the success of our students. The hiring is primarily overseen by terrific associate deans; currently, that consists of Marina Pereira, MSW; Ibon Izurieta, Ph.D.; and Jason Janke, Ph.D. Over half of the associate deans I have hired have been faculty of color and currently 50 percent are immigrants.
Beyond hiring, I wanted to increase faculty resources through wise, equitable resource allocation, supporting the maximum distribution of professional-development funds, purchases of equipment, bringing in speakers and supporting conferences. I strove to enable the faculty to excel and not be hindered by the lack of resources.
I also developed the CLAS mini-grant program, which initially was directed at professional development (including grant proposals) and then expanded to include teaching and undergraduate research. The idea was to provide the supplies for experiments, making art, indexing books, drawing maps for publications or hiring undergraduate students as assistants. Currently, we give out about 50 mini-grants per year to tenure-line faculty; their resulting growth has enriched our classrooms, created undergraduate research opportunities and helped our professoriate meet reappointment-tenure-promotion and post-tenure review expectations, all while furthering the University's reputation.
In addition to personnel, how were you able to impact the intellectual, creative and cultural climate while you were dean?
I was fortunate to have faculty develop and champion great ideas across disciplines. There are too many to mention, but there is one that has become institutionalized: the Denver Project for Humanistic Inquiry. The brainchild of Adam Graves, Ph.D., D-phi provides humanities-centered extracurricular programming and involves faculty from across MSU Denver, drawing students and members of the surrounding community to its events.
As to the cultural climate, I've supported activities around Africana Studies, Chicana/Chicano Studies and the Gender Institute for Teaching and Advocacy (formerly the Institute for Women's Studies and Services). These departments fill an important role for our institution and across the Front Range. Some of the University's key programs include the Richard T. Castro and Rachel B. Noel Visiting Professorships (now run by Myron Anderson, associate to the president for diversity), Outstanding Women's Awards and departmental-driven programs like the Black World Conference, Dia de los Muertos, Journey Through Our Heritage and the GITA/IWSS bridge speaker.
They remind us and teach us about our heritage and the community we live in, increasing our relationship with the Front Range. They are a treasured part of the CLAS fabric, broadening our perspectives to deepen our understanding – and ultimately making the world a better place. Through these efforts and more, CLAS also does a lot of important community work. For example, Adriann Wycoff, Ph.D., (CHS) runs the Family Literacy grants, educating families of young children about literacy development.
Our arts are outstanding; they contribute to our creativity, culture, and are a different kind of connection that we can make both on campus and with our neighbors. The Center for Visual Art has world-class shows that attract thousands of visitors annually. The department of music has more than 200 performances and brings in thousands of patrons. Our department of theatre (formed while I was dean) has four major productions each year, along with additional smaller-scale productions. It also has traveling troupes that work with Kaiser Permanente to do health-education performances to more than 16,000 children; another troupe acts out water education at water festivals for governmental agencies, community events and elementary-school students alike. All of these enrich the University and the surrounding Denver area.
Can you talk more about community-outreach programs in CLAS?
The Center for Advanced STEM Education, directed by Hsiu-Ping Liu, Ph.D., has greatly expanded both its outreach and role within MSU Denver. It facilitates research opportunities for our students and increases the retention of underrepresented science students. Dr. Liu and her great staff host Advanced Placement institutes for teachers at underserved high schools and organize summer science camps for middle and high school students. The CLAS music department has started offering music camps and Journey Through Our Heritage brings in high school students during the academic year, helping to run a neighborhood camp during the summer. The dean's office also hosts the Colorado Destination Imagination State Tournament, Colorado-Wyoming Junior Academy of Sciences and, with the Office of Marketing and Communications, the Girls Inc. Eureka program.
What has CLAS done in the curricular arena and high-impact practices for students?
The majority of the University's general-studies program is centered in CLAS. Every student is required to complete this liberal-arts portion of their bachelor's degree. These courses are designed to provide them with the communication and quantitative skills to succeed in college and teach them problem-solving, analysis, reasoning, critical thinking and "soft skills" that they will need in jobs and to enrich their lives.
They create an informed citizenry for participation in our democratic society and individuals that are enriched by the arts, humanities, social, natural and physical sciences. The multicultural requirement enables students to understand the people in our region, and the global diversity requirement helps them to live in this connected world.
We have been leaders in general education and received national attention for the First Year Writing program, developing supplemental academic instruction to alleviate the need for students to take remedial courses at community colleges by adding extra support to our college-level courses. Our math program has continued to lead with its decades-old peer-study program, and recently expanded the math supplemental academic instruction to reach even more students. They received national recognition for their calculus program, too.
Beyond general studies, CLAS' curriculum is dynamic. Majors, minors and courses have been developed, and others have been archived. The college typically has 200 curriculum proposals each year, half being substantial changes and the other half more tweaking of existing courses. The majority of the individualized-degree-program proposals come through CLAS too. The dean's level of curriculum is spearheaded by Associate Dean Linda Lang-Peralta, Ph.D.
High-impact practices include the research opportunities that have also grown for both faculty and students. Psychology has had an undergraduate research day longer than I've been dean. While I was dean, the faculty in the biology department decided to start their own and the other sciences asked to join in. A few years later, Provost Vicki Golich, Ph.D., added resources and expanded it into the very successful MSU Denver-wide Undergraduate Research Conference, overseen by the Applied Research Center. With the help of University offices, we have also increased other high-impact practices, including international-studies opportunities and internships. Our faculty have created service-learning courses, too.
In the past 12 years, what major University initiatives have you been involved in?
Beyond all of these activities, I have had a leadership role in six additional major University initiatives: the Science building renovation and addition (I even testified to legislative committees to garner support for it); the initial Hispanic-Serving Institution steering committee; the revision of the General Studies Program; starting one of the first three master's degrees with the Master of Social Work; the Higher Learning Commission Reaccreditation Steering Committee and the AES-Advanced Manufacturing Initiative, which I co-led with Sandra Haynes.
Those certainly are a lot of accomplishments! What else would you like to acknowledge during your time as dean?
CLAS faculty members have been successful in grant writing, including joint grants with faculty from the School of Education. We have embedded advisors into our academic departments. The Women in STEM and the Undergraduate Women's Philosophy conferences have been started and Constitution Days celebrated.
Faculty and staff have done so much more that I haven't included; after all, how do you summarize 12 years of activities? They did the majority of the work; I was like an air-traffic controller directing traffic and trying to prevent crashes while looking for resources and ways to make things happen.
All of this was accomplished with the support of great associate deans, staff, chairs and faculty. I've worked with amazing colleagues, both within CLAS and from across the University, who all believe in our mission. I have been constantly stimulated by and I learned from everyone.
What a rich opportunity for growth I've had the past 12 years – I wouldn't trade it for any other professional experience.
What does the future hold for you?
I am returning to my faculty roots as a Biology professor. It will be good to be back in the classroom, relearning my discipline and working with students again. It will be fun to learn pedagogy from the faculty who were hired while I was dean. I've read their evaluation portfolios, and I know that they are terrific!
My final thought is that much of a dean's job is not concrete, and you don't see progress or impact for a long time. For the past 12 years, I've defined a good day as one with good interactions and where I've learned something. Being dean certainly met that criteria, and returning to my faculty roots will be another exciting growth opportunity.
Edit this page