July
Catch a futuristic flick at the Sci-Fi Film Series
The popular summer film series is back for 2018 – but only three dates remain.
July 26, 2018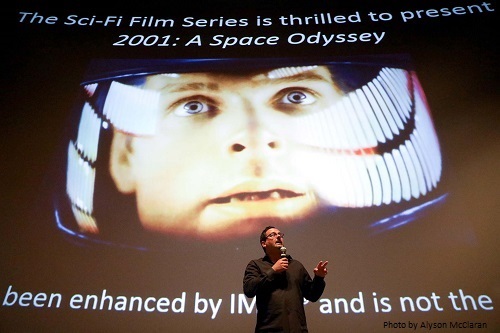 Escape reality — and the summer heat — at the Sci-Fi Film Series curated by Metropolitan State University of Denver, the Denver Film Society and the Denver Museum of Nature and Science.
The series aims to educate and entertain, examining the intersection of art and science through the lens of classic and modern sci-fi films. Along with space exploration and dramatic takes on humanity's future, the films often explore contemporary issues such as racism, environmentalism, sexism and xenophobia.
After each screening, Vincent Piturro, Ph.D., chair of MSU Denver's Cinema Studies Program, digs deeper with Q&A discussions that also include expert scientists. Next week's film, "Annihilation," will be followed by a conversation between Piturro and Nicole Garneau, Ph.D., curator of Human Health and director of the Genetics of Taste Lab at the Denver Museum of Nature and Science, and audience members are encouraged to participate.
"It is an intellectual experience but also an enlightening experience for the audience as well," Piturro told RED this month.
The series has grown in popularity over the past several years, and tickets often sell out. Reserve your seats now for the following shows by contacting the Denver Film Society or the Denver Museum of Nature and Science.
"Annihilation"
Aug. 1 at 7 p.m. at Phipps IMAX Theatre DMNS

"The Shape of Water"
Aug. 8 at 7 p.m. at Phipps IMAX Theatre DMNS

"Blade Runner 2049"
Aug. 15 at 7 p.m. at Sie FilmCenter
Edit this page