July
Hello my name is: Margaret Thulson
The reappointed COA secretary/treasurer balances a big workload with light-hearted (and terrifying) hobbies.
July 26, 2018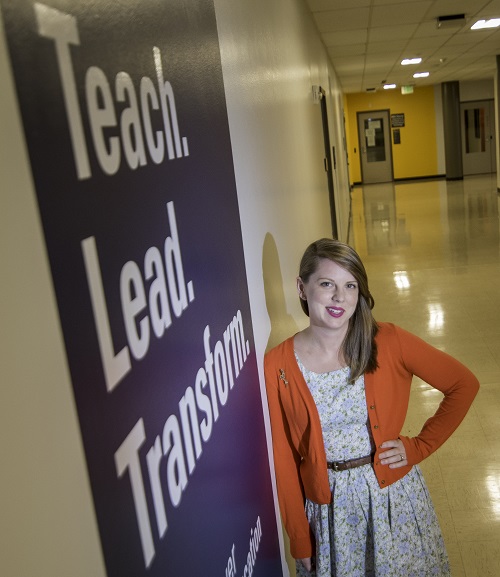 Margaret Thulson is feeling inspired. Her job as the assistant to the associate dean of education is particularly exciting, as the school is preparing for reauthorization, and she was recently reinstalled as secretary/treasurer of the Council of Administrators. Despite her full workdays, the Rochester, N.Y., native still finds time to enjoy her favorite Saturday-morning pastime — and she's happy to share why she loves her many roles at Metropolitan State University of Denver.
Reauthorizing an entire school seems like a big lift. How is it going?
It's a very exciting project to be part of. Beyond being a state requirement, it's an opportunity for us to track growth and showcase the work we're doing to forward our mission — not just as individual departments but as a school.
How did you get involved in the Council of Administrators?
I have a tendency to talk to everybody, regardless of the space I'm in, and I found I was gathering ideas and inspirations from my colleagues with nowhere to put them. Evan Bowles, the current COA president, and I became friends early on when I was hired, and he urged me to get involved. I was initially nominated as representative at-large and then appointed secretary/treasurer.
I see being involved with the COA as a way of giving back. For me, it's about building community, sharing ideas and advocating for my peers. When staff and faculty are happy, that happiness spreads to the students as well.
Was working in higher education always your professional plan?
I actually studied writing and film in college, but when I moved to New York City after graduation, I didn't have a lot of direction. A friend of mine was working at Columbia University Teachers College and mentioned they were looking for front-desk help, so I applied. It was a pretty spontaneous way to get into higher education, and I had no idea that that would inspire a career.
Did it ever make you think about teaching?
I worked in an early-childhood center all through college, and after working at Teachers College I wanted to get back into the classroom. I was an elementary school paraprofessional for a year, then I worked in an early-childhood center and was a first-grade classroom aide.
Ultimately, I don't think just anybody can teach. It's an incredible — but very difficult — profession that requires a lot of passion. Though teaching wasn't my passion, I love that through my work in the School of Education, I'm able to support the growth of the next generation of teachers and be a champion for the profession.
Do you miss working with kids?
I miss the jokes; that was my favorite part of working in elementary education. Kids have the best jokes!
So you're into cartoons?
Yes! My husband's family runs School of the Poetic City, an animation and art camp, over the summer. I got involved when I first moved here and helped teach stop-motion animation, hand-drawn cell animation and cartoon-making to kids, which rekindled my love for cartoons and animation. My husband and I like watching Saturday-morning cartoons to start the weekend off, and we love the work of Hayao Miyazaki.
But you're also a Stephen King fan?
It's weird. I tend to have fairly classic hobbies like antiquing and baking, but I really like horror movies and novels. I'm really into Stephen King. I took a vacation to Maine recently and actually went to his house to pay homage. I don't do haunted houses, but I love Stephen King.
Edit this page