June
The Crew in Blue is here for you!
A chromatically coordinated group of students is changing the way future Roadrunners come to see MSU Denver.
June 27, 2018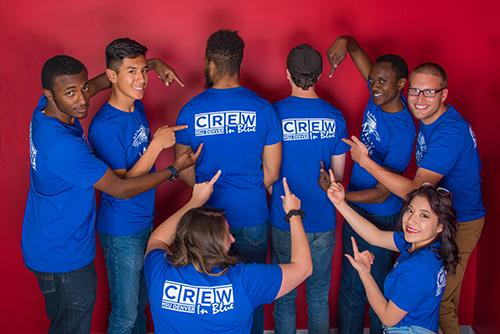 Spend some time around Metropolitan State University of Denver, and you may recognize a familiar sight: students clad in blue shirts, leading groups of folks around the campus.
So, who is this Crew in Blue?
"They're a group of elite students representing MSU Denver, the tour guides of the University," said Garrett Spradlin, manager of recruitment events, visits and communications for the Office of Admissions.
That involves leading those campus tours – but also partnering with efforts such as high school recruitment, orientation proceedings and the like.
Spradlin recognized the need for a (literal) uniformed approach to customer service, so the program was launched in January.
"Before, our guides could wear anything," he said. "We wanted to increase our visibility, so I knew we needed matching apparel for people to identify us."
It's paying off to create a welcoming environment, too. Faculty members and staff are encouraged to stop and say hello to campus visitors, which is happening in increasing numbers. Visitors and community members alike can share encounters on social media with the #crewinblue hashtag.
A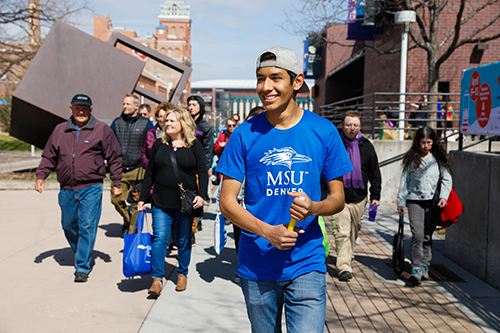 nd President Janine Davidson, Ph.D., has even gotten in on the action, stopping to greet folks while getting coffee, Spradlin said.
He's quick to point out that at the heart of it lies the student experience – and when they make the authentic connection to something bigger, it has a ripple effect on helping other Roadrunners make the smart choice to come to MSU Denver. It pays off too: An EAB study places the college visit at the top of information sources most influencing students' decision on where to enroll.
"Our tours are such a huge part of the student-recruitment process," Spradlin said. "We've got amazing Crew in Blue members from all walks of life, representing different nationalities, sexual orientations, gender identities and more.
"In every aspect, they represent the face of MSU Denver and who we are as an institution."
Know a student who'd make a great addition to the crew? Have them email visit@msudenver.edu before interviews in early August.
Edit this page