June
This Wednesday, take two wheels into work
Stop by the MSU Denver station on Bike to Work Day for food, fun, giveaways and more!
June 25, 2018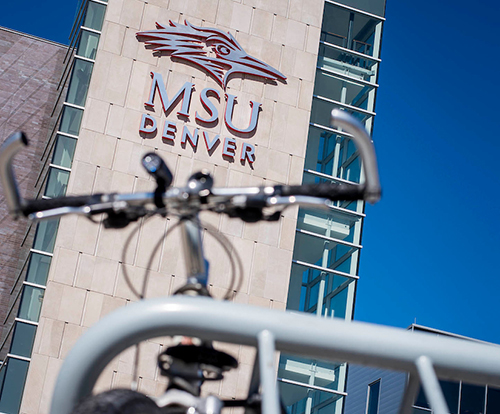 The annual Bike to Work Day event encourages everyone to put their mettle to the pedal. And this Wednesday, don't miss stopping by the Metropolitan State University of Denver station on the Tivoli quad, where you can grab a bite to eat, hydrate and caffeinate with some morning coffee.
Need a quick tune-up? Campus Rec will have the resources to get your bike road-ready. Or feel up to a morning game of giant Jenga? The One World One Water Center will be there to challenge your stacking abilities.
Other info and giveaways will also be on hand from the Health Center, Ambient Energy, the Auraria Police Department, AHEC Sustainability and MSU Denver Academic and Student Affairs.
It all kicks off at 6:30 a.m. and runs until 9 a.m., adjacent to the outdoor stage between the student union and P.E. Events Center.
Want to join the MSU Denver crew but haven't signed up yet? It's not too late!
Edit this page