June
Faculty Senate year-end recap and look ahead
Senate President Matt Makley notes highlights from the previous academic year while looking ahead to priorities for 2018-19.
June 18, 2018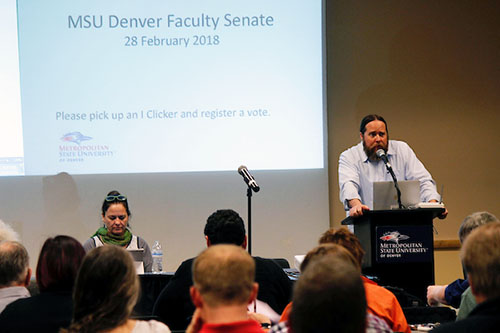 Collaboration was a key theme for the Faculty Senate in the 2017-18 academic year – and should prove even more integral heading into the next.
"It was a good year; from a community-building and outreach perspective, we had an incredible number of visitors to the Senate," said Matt Makley, professor of history and Faculty Senate president. "It's a great reminder to build bridges and connect to the larger community – we're all part of a collective endeavor."
Some of the highlights of the past year include:
The expansion of the Teaching Excellence Awards to include the first round of TEA Talks on Oct. 4, where award-winners were invited to present to the Senate. "Rolly Schendel (assistant professor of literacy in elementary education and literacy) helped lead the way for faculty members to talk about pedagogy and share skills with their colleagues," Makley said. "We look forward to continuing to celebrate this fantastic work our colleagues do every day."
The Welfare Committee, led by Jeff Parker (assistant professor of theatre) and James Murphy of the Budget Committee (senior lecturer, accounting), was integral in compiling reports and recommendations for expanded tuition benefits. MSU Denver President Janine Davidson approved the increased proposal June 11.
On Jan. 17, Emily Ragan, assistant professor of chemistry, visited the Senate to discuss open educational resources to keep costs down for students. Her work chairing a statewide group recently led to the passage of a bill to allocate $660,000 and a staff member to oversee the Colorado Open Educational Resources Council.
The Academic Policy Committee, chaired by Jessica Weiss, assistant professor of art history, theory and criticism; and the Curriculum Committee, chaired by Jean-Francois Duclos, assistant professor of French, contributed substantial efforts this past year. "These committees have really done the yeoman's work, making dozens of policy and curriculum recommendations," Makley said.
Next, the Faculty Senate is poised to take on big issues in the upcoming academic year, engaging in strategic initiatives while thinking broadly about the role of Metropolitan State University of Denver in the city, state and region.
"There's a need to initiate large conversations about the management of curriculum to protect academic integrity while remaining responsive to the needs and changing nature of higher education." Makley said.
Part of that is reinforcing the commitment to a holistic education, a process that develops critical thinking and ethical expertise in a way that employers are looking for, as Davidson noted in her April 9 Senate visit where she recapped her Colorado Business Roundtable discussion.
"We see the faculty role as stewards of the institution, and as part of this dialogue as much as possible," Makley said. "It's to ensure that we serve the needs of our students and our community, all while maintaining the integrity of our disciplines we believe in so deeply.
"And though there may be challenges ahead, we'll find success by continuing to work cooperatively with all our stakeholders."
Edit this page