June
Budget Task Force approves changes to employee leave
Policy updates increase leave time, create parental and medical leaves, and phase out front-loading.
June 14, 2018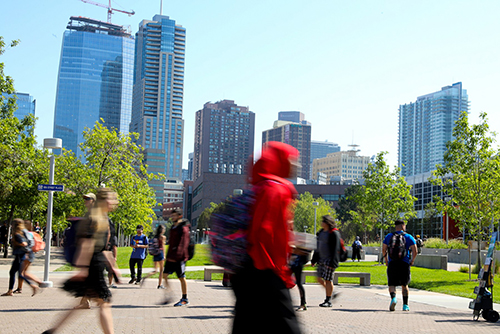 Administrative employees and department chairs at Metropolitan State University of Denver will have more hours of leave and more types of leave after President Janine Davidson, Ph.D., approved a policy update on paid employee leave recommended by the Budget Task Force.
"We were able to accomplish a lot within this proposal. We're providing additional benefits to employees, simplifying leave processes and leveraging technology," said Josh Mackey, director of Human Resources. "Although it is a multiyear plan, the majority of the changes start next month. The second- and third-year changes are primarily there to provide time for employees to plan for the change from front-loading to monthly accrual of sick and annual leave."
Along with the enhanced tuition benefit announced in the President's Cabinet meeting Monday, the leave changes, detailed below, will better position MSU Denver to recruit and retain employees, Mackey said.
"The addition of parental and medical leaves helps us move away from some outdated and unsustainable short-term leave practices, while also providing some expanded coverage that we hope better supports employees," he said. "Moving from front-loading annual and sick leave will cause some employees to adjust how they use leave but will eliminate several issues that practice was causing and positions us to better leverage Banner for leave reporting and tracking."
The compensation subcommittee of the Budget Task Force and entire task force have been looking for ways to enhance employees' benefits package.
"We're really proud of the HR team's work with the compensation subcommittee to make improvements in the work-life balance of our employees," said George Middlemist, associate vice president of Administration and chief financial officer.
An overview of the major changes is provided below, with the entire policy available here.
Annual leave
Administrative employees and department chairs will receive a front-loaded 192 hours (24 days) of annual leave July 1 for the 2018-19 fiscal year. That's a 32-hour increase from the previous year.
Starting with fiscal 2019-20, those employees will begin accruing annual leave per month instead of a front-loaded amount in July. By accruing 16 hours per month, employees will again receive 192 hours per year but won't be able to use it until it is earned through monthly accrual.
Sick leave
Administrative employees and department chairs will also receive a front-loaded 192 hours of sick leave July 1. Employees will need to begin providing a physician's note for more than five consecutive missed days starting in fiscal 2018-19.
Additionally, those employees will now be able to roll over sick leave starting immediately, with a 320-hour rollover maximum (equal to the annual-leave max). This is intended to allow employees to build up sick leave before front-loading is eliminated in 2020-21.
For the 2019-20 fiscal year, employees will receive a front-loaded 192 hours of sick leave July 1, 2019, and employees with 10-plus years of service will become eligible for a one-fourth payout of sick leave upon separation from the University.
Starting in 2020-21, employees will begin accruing sick leave at the same 16-hours-per-month rate as annual leave.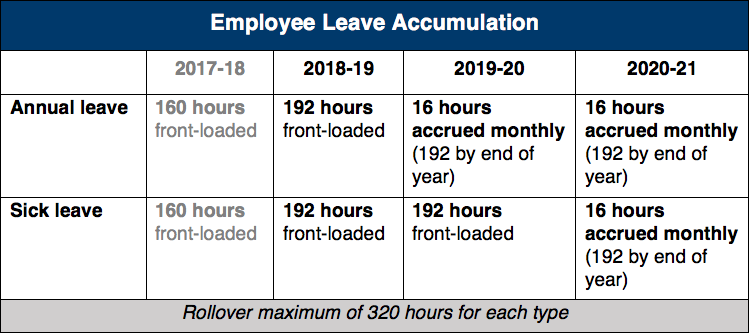 Parental leave, medical leave and disability
In addition to rollover sick leave, two new types of leave will help replace short-term disability starting in fiscal 2018-19. Administrative employees and department chairs can use up to six weeks of parental leave (maternity, paternity or adoption), with a requirement to return to work for at least six weeks to receive the paid leave.
Employees can also use up to six weeks of paid medical leave, separate from sick leave, for their own serious medical condition, with the same requirement to return to work for six weeks afterward to receive the benefit.
Parental and medical leave will run concurrent with Family Medical Leave Act leave, or FMLA, which provides employees with up to 12 weeks of job-protected leave per year; that year will be a rolling 12-month period, with fiscal 2018-19 as the initial lookback period.
Leave for full-time faculty
Effective fiscal 2018-19, faculty will also be eligible for up to six weeks of parental leave, subject to the same rolling 12-month lookback period for FMLA as administrative employees and chairs.
The previous 20 days of sick leave for faculty is being replaced with up to 12 weeks of paid family medical leave for full-time faculty members. Medical certification is required for this benefit.
Faculty members will also be eligible for up to 24 days of paid leave to help with sick family members, subject to FMLA requirements. Faculty missing one to three days of work should work with chairs and deans regarding class coverage.
The Office of Human Resources is working on additional details and FAQs, which will be posted on the HR website soon. In addition to the overview provided here, there will be other changes as to how leaves are administered. If you anticipate taking leave, please contact Amanda Berry at 303-605-5321.
Edit this page