June
Acknowledged for excellence in citizenry
MSU Denver's civic-engagement efforts activate communities – along with garnering recognition from AASCU.
June 13, 2018
Are you registered to vote?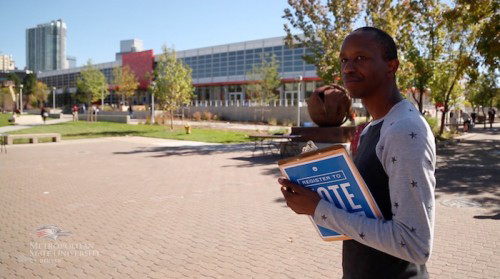 Roadrunners share many characteristics. Chief among them is being civically engaged.
That was the sentiment at the American Association of State Colleges and Universities' recent Civic Learning and Democratic Engagement conference in Anaheim, California, where Metropolitan State University of Denver was recognized several times for these efforts.
"Examining the impact of public policy on people teaches critical thinking; engaging constructively to solve problems teaches interpersonal and communication skills; and teaching how to embrace civic agency requires cultural competency across all manner of difference – race, income, political ideology and more," said Vicki Golich, Ph.D., provost/executive vice president of academic and student affairs.
Golich was awarded the William M. Plater Award for Leadership in Civic Engagement for commitment to engaging undergraduate students in the democratic process. And Bethany Fleck Dillen, Ph.D., associate professor of psychology, was named a 2018 Civic Engagement Fellow for AASCU's American Democracy Project; she will also serve as the next editor of the organization's eJournal of Public Affairs.
MSU Denver got an additional nod for our top billing in 2016 as a large, public, comprehensive, regional University that turned out 66.5 percent of student voters; the University also received a silver recognition from AASCU for engagement initiatives.
Golich noted the wide range of activities and programs designed to graduate civically engaged alumni, including the 1 Book/1 Project 2 Transform shared reading initiative, the "Dialogues Across Differences" faculty learning community and the annual Higher Education Diversity Summit; MSU Denver also is now a charter member in AASCU's new digital polarization initiative, designed to help students differentiate between fact and fiction in various online formats.
Regardless of the channel, active participation is part and parcel of being a Roadrunner. And as it turns out, it's good for job prospects, too.
"Deeply embedded within civic engagement is the learning and enhancing of critical skills that employers repeatedly tell us they want in their employees," Golich said. "Our students become productive, engaged community members who enhance the quality of all our lives."
Edit this page