June
This summer, take a hike!
Thanks to the Outdoor Pursuits Center Rental Shop, faculty, staff, students and alums can gear up for less.
June 7, 2018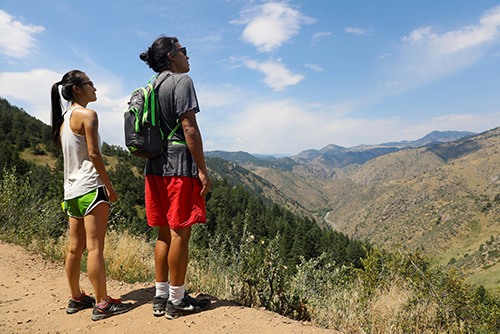 Though the calendar might not make it official for a few weeks yet, summer sure feels like it's here – along with the call of all that Colorado's natural splendor has to offer.
But the gear to get away and enjoy it can be pricey. And rentals can get expensive too.
That's where the Outdoor Pursuits Center Rental Shop comes in. A service housed within Metropolitan State University of Denver's Campus Recreation, the shop provides gear to faculty, staff, students and alums at extremely reasonable rates: You can get a two-person tent for $12 a weekend, a week with a backpack for $20 or even a canoe starting at $17 a day.
"We want to help people get active and get outdoors," said Bryan Ferguson, associate director of Outdoor Pursuits and Leadership. "And it's not just limited by our current inventory; because of wholesale relationships with vendors, we can look into purchasing items if they're not in stock and later add them to our rental fleet."
The resources are available on a first-come, first-serve basis; weekend rentals can be picked up as early as Wednesday or Thursday prior, as well.
For more information or questions, contact Ferguson.
Edit this page