May
MSU Denver faculty in the media
Our experts serve the community by providing insight and perspective on a range of topics.
May 24, 2018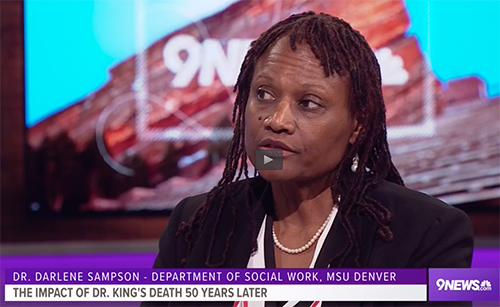 Each month, the Early Bird highlights a few faculty members who have served as subject-matter experts on timely news topics.
Here's a sampling from April:
Robert Preuhs, associate professor of political science, interviewed with WalletHub on April 20 about the most and least federally dependent states.
Kevin Kuhlmann, professor and associate of aviation and aerospace science, interviewed on SiriusXM Business Radio on April 20 about the recent Southwest Flight 1380 accident and where the investigation may go in terms of new regulations.
Darlene Sampson, social-work clinical faculty, interviewed April 3 on 9News about the anniversary of the death of Rev. Martin Luther King Jr., his impact and how social justice has evolved since that time. Whitney Traylor, associate professor of management, also interviewed on 9News about the death anniversary of King on April 4.
Kishore Kulkarni, professor of economics, interviewed on Fox31 on April 2 about the impact President Trump's recent tweets are having on Amazon's market value.
For a full list of faculty featured as experts in the media, visit the Daily News Clips in MSU Denver's newsroom.
Edit this page