April
48 Hours of Giving is almost here
Help out our community with MSU Denver's Annual Day of Giving and Roadrunners Give Back Day this week.
April 23, 2018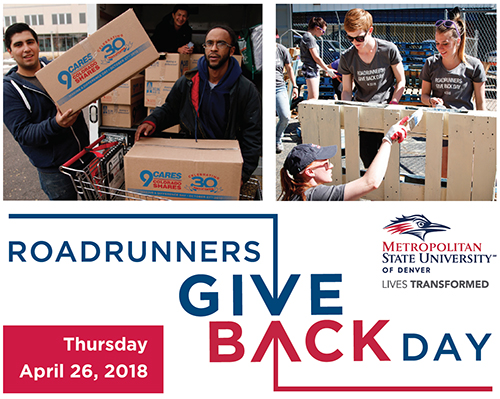 Looking for a way to make a difference to the University that empowers our community every day?
Start your 48 Hours of Giving on April 25 – this Wednesday – with MSU Denver's Annual Day of Giving. Make a gift to the student project or scholarship of your choice, and watch how your support transforms student lives at Metropolitan State University of Denver.
Continue making an impact when you join MSU Denver students, faculty, staff, alumni and friends for our annual day of service, Roadrunners Give Back Day, this Thursday, April 26. We will volunteer at nonprofits across metro Denver and want you to join us as we make a difference in our local community, one volunteer at a time.
It's not too late to sign up – make sure you do before midnight Tuesday – then join President Janine Davidson and your fellow volunteers for a kickoff party Wednesday from 2:30 p.m. to 5:30 p.m. on the first floor of SSB.
Click HERE to learn more about how to be a Roadrunner who gives back!
Edit this page