April
You asked. She answered.
President Janine Davidson responds to a question from the Spring Update about student-employee engagement.
April 17, 2018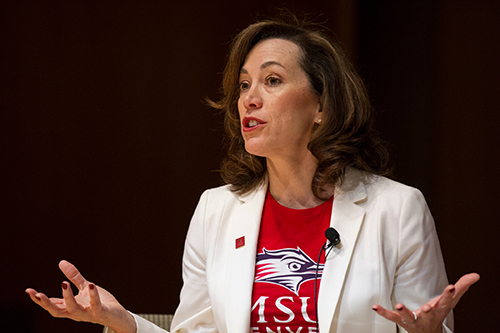 At the Spring Update on March 13, President Janine Davidson, Ph.D., fielded questions on three primary topics: inclusive leadership, legislative funding and campus safety. She also took questions from the crowd and via social media. In an effort to answer the questions she couldn't get to that day, she has agreed to share her responses in the Early Bird over the next several weeks.
Question:
What are you going to do to improve student #EmployeeEngagement for the 1,300 students employed at MSU Denver?
President Davidson:
This is a great question and one that I've spoken about with Josh Mackey, our executive director of Human Resources.
Student employment is critical to the success of the University, and many departments rely on student employees to perform important functions in their offices. We also believe that having students gain valuable work experience while they attend classes is another way we support their learning and growth.
There are several things that come to mind related to better engagement of our student employees, a topic that has come up in several settings, including the President's Advisory Council on Culture and Workplace.
Here are some of the ideas we want to implement:
Enhancing student-employee orientation and using that opportunity to set a better foundation for what it means to work at MSU Denver.
Expanding the inclusion of student employees in professional-development activities. This is already happening to some extent and continues to grow within individual departments and divisions. Please encourage your student employees to attend the University's 2018 Professional Development Conference on May 17.
Better promoting current engagement opportunities and events to the University community. For example, we have student-employee awards that not enough people know about. They were presented as part of the Student Involvement and Leadership Awards ceremony, which took place April 12.
Our students deserve excellence, whether that is in the classroom or in the workplace. As a community, we need to do a better job of making sure our student employees get connected to the engagement opportunities that are already available to them as well as providing more.
I'd love to hear your ideas on this important topic. Send them to me through the idea catcher on the Office of the President website.
Edit this page