April
5 places to give back on April 26
Spotlight on select locations where you can pitch in for Roadrunners Give Back Day 2018.
April 16, 2018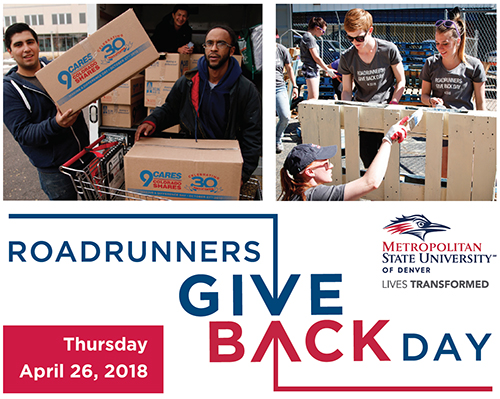 Still on the fence about where to volunteer for Roadrunners Give Back Day on April 26? Here are a few places for you to pitch in, make a difference in your community – and maybe spend part of your workday outside in the beautiful Colorado springtime.
The Greenway Foundation is a local Denver nonprofit focused on the South Platte River, working on revitalizing the river and reconnecting communities. For RGBD 2018, Metropolitan State University of Denver volunteers will help keep the nearby Cherry Creek riverway and connected park clean by picking up trash and debris. Data collected on what types of trash and debris are in our parks and waterways will also provide valuable information to the organization on how to prevent littering.
Extreme Community Makeover coordinates volunteer teams to partner with underserved residents to improve their homes and neighborhoods by graffiti removal, trash pickup and other initiatives. These projects create safer environments, cultivate community and connect residents to a permanent path toward healthy, hopeful and stable lives. That's because the relationships built — between the volunteers and community members, among the neighbors on a block, and between the community and resources in its neighborhood – are just as important as, if not more so than, fences.
Su Teatro's mission is to promote, produce, develop and preserve the cultural arts, heritage and traditions of the Chicano/Latino community; to advance mutual respect for other cultures; and to establish avenues where all cultures may come together. MSU Denver volunteers will help with refurbishment of the community theatre space, helping to clean and set up the rehearsal space and dressing rooms.
Clinica Tepeyac is a community health clinic whose mission is to provide culturally competent health care and preventive health services for medically underserved populations in Denver. Volunteers will help hang privacy curtains from the ceiling in the facility's 10 exam rooms, providing patients with privacy when providers and other staff enter or exit.
The Park People is a nonprofit whose mission is to preserve, enhance and advocate for Denver's parks, recreation resources, open space and urban forest. MSU Denver volunteers will partner with employees from downtown Denver company Service Source to plant trees in surrounding community parks and neighborhoods. One likely neighborhood will be Lincoln Park/La Alma. Come enjoy the outdoors April 26 and help Denver's urban tree canopy.
Here's how it works:
Step 1: Visit the event site to find descriptions of the 2018 Roadrunners Give Back Day projects. Sign up for a project of interest.
Step 2: For faculty and staff using release time, complete the leave-request form, obtain supervisor approval, and email forms to Mauro Villaseñor in Human Resources. Employees completing a monthly time sheet will use leave code "V" for volunteer. Contact Villaseñor or Benefits Manager Amanda Berry with any questions.
Step 3: Follow the instructions to pick up T-shirts before April 26. Details on the Roadrunners Give Back Day kickoff event April 25 will be forthcoming.
Step 4: Perform volunteer service with pride, joy and a sense of learning.
Step 5: Provide input on your volunteer experience after the event.
Questions about RGBD? Contact Gordon Loui, director of strategic partnerships and community engagement.
Edit this page