April
Slow cookers for kids
Effort from HTE students and professor ensures that families have a hot meal at their fingertips.
April 12, 2018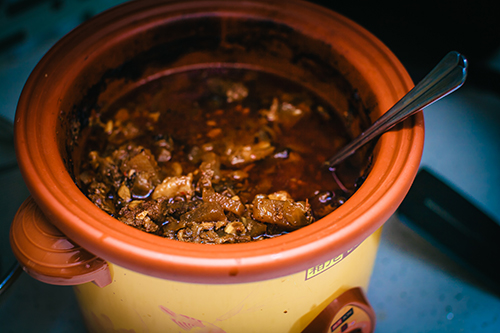 Access to food doesn't necessarily mean people have the means to cook it.
That's the impetus behind Slow Cookers for Kids, said Jackson Lamb, professor of Hospitality, Tourism and Events.
Launched as part of his intensive Winterim class, the effort began as a pilot to distribute slow cookers to schools served by hunger-relief agency Food for Thought; the organization delivers "PowerSacks" to ensure that metro Denver children have sustenance over the weekends.
"We looked at a list of the 30 most popular items they were distributing, like cans of pumpkin, rice, marinara and pasta," Lamb said. "All of those things can be combined into a crock pot where people can set them up in the morning and have a hot meal ready by the afternoon."
MSU Denver students are involved with collecting slow cookers and ensuring that they are functional. This is in conjunction with We Don't Waste, another food organization for which Lamb serves on the board.
Slow Cookers for Kids will pick up, clean and test all donated cookers. Eventually, the goal is to collect and distribute 500 throughout the community.
"Efforts like this ensure families are able to both access and cook food," Lamb said. "Not only that, but we're helping people learn how to cook using recipes our students develop. It's a great community service."
Want to find out more or donate a slow cooker? Contact Jackson Lamb at lambjo@msudenver.edu or 303-615-1233.
Edit this page