April
Legislative update: what's at stake
Discussions between Colorado state legislative bodies near completion as JBC undertakes reconciliation process.
April 12, 2018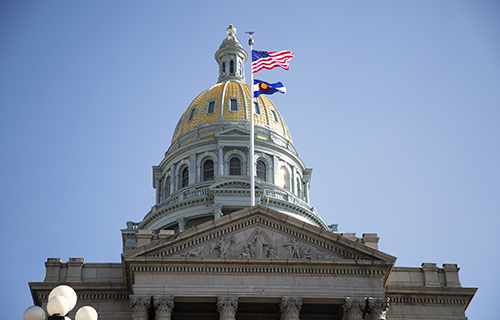 The Joint Budget Committee met this week to settle differences between the Colorado House and Senate.
This reconciliation process comes after the JBC finalized its recommendations to the legislature at the end of March and the House and Senate each spent a week debating and amending the budget.
On March 23, the JBC voted to set aside an additional $18 million from the general fund for Colorado higher education institutions. This additional amount was requested by institutions when the state received news of higher-than-expected state revenues due in part to changes in federal tax laws.
"We're focused on holding on to the additional set-aside for higher education and making the case for Metropolitan State University of Denver to receive a fair portion of that total," said Christine Staberg, member of the University's government relations team. "As of today, the funding is still held out for this purpose, but separate legislation will need to be run to specify the allocation among all institutions and spell out the specifics of what institutions need to deliver in return."
In addition to a comprehensive approach to fund distribution, a case has been made for MSU Denver-specific proposals, such as the creation of a Classroom to Career Hub. The proposal would supercharge the already-proven success of applied learning by adding hundreds of paid apprenticeships, internships, work-study positions and other opportunities. This would fuse academic with career advisement, enabling students to graduate on time and with lower debt, helping to meet the demands of Colorado's continually growing workforce.
Beneficiaries of these efforts directly affect the success of our student body, including Pell-eligible students and those from underrepresented populations. As President Janine Davidson, Ph.D., has noted, Colorado's per-student funding has long disadvantaged MSU Denver.
The JBC's completed conference committee decisions will return to the legislature this week for a final vote in both chambers before heading to Governor John Hickenlooper for action.
MSU Denver-related budget orbital bills were unchanged from their introduction and are already on their way to the governor's desk to be signed; this includes HB 1331 (allocating $660,000 in funds and one full-time position in the Department of Higher Education for investment into open educational resources) and HB 1332 ($2,000,000 for creating a teacher-education grant program to address the statewide teaching shortage). The legislature also approved HB 1339 which requires background checks for anyone with access to IRS information. The state will cover the cost of these fingerprint background checks.
"MSU Denver had lots in play in this year's budget," indicated Staberg. "And we're not done yet – we'll continue to push at each opportunity for additional state investment in our students and campus."
In non-budget news, the standalone SB 229 (creating a centralized fingerprint background check for students in educator preparation programs to streamline the process and ease their financial burden) is scheduled in the Senate Education Committee today at 1:30 p.m. MSU Denver initiated this legislation and is working in consort with other institutions of higher education, the Colorado Department of Education and the Colorado Bureau of Investigation to establish this process.
Want to stay up to date with the latest in Roadrunner legislative advocacy and take action? Become an MSU Denver Champion today!
Edit this page