April
Committed to campus safety
Emergency Preparedness Committee extending preventive and incident-response efforts across MSU Denver.
April 4, 2018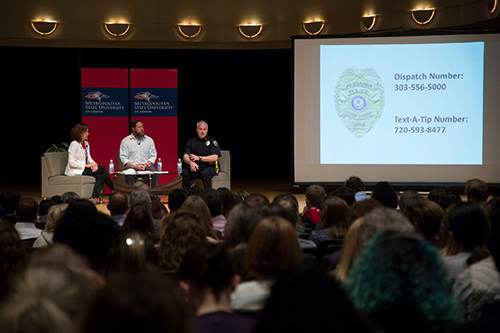 Campus safety was one of the central tenets of Metropolitan State University of Denver President Janine Davidson, Ph.D.'s recent Spring Update to the University community. And a key part of that commitment is the work of the Emergency Preparedness Committee, established to ensure appropriate protocol for crisis incidents.
"A lot of people aren't aware that we have someone – and specifically a full committee – dedicated to working on emergency preparedness," said Mark Pokorny, environmental and emergency-preparedness manager within MSU Denver's Office of Facilities Planning.
The EPC has established main areas of focus, including:
Active-shooter and harmer preparation.
Violent and aggressive people (not necessarily premeditated).
Weather-related issues.
Infrastructure damages and outages.
Pandemic or widespread illnesses.
Some of the identified areas of need include financial support, personnel preparation and creative community buy-in.
This involves shifting to a proactive mindset, Pokorny said.
"One thing to ask is, 'What's in your backpack that could help you in an emergency?'" he said. "Think about things like rain gear, water and snacks – if you ride the light rail and it stops running, are you ready for a six-hour walk home?"
In addition to identifying immediate response, the committee is looking at long-term goals such as a continuity-of-operations plan – for example, imagining business solutions with minimal disruption should a facility go offline.
The committee plans to present its findings at the upcoming President's Cabinet meeting April 9.
Along with Pokorny, the EPC consists of Braelin Pantel, dean of students and associate vice president for Student Engagement and Wellness; Brian Bagwell, Ph.D., associate professor in the Department of Human Services; Jennifer Bradford, Ph.D., associate professor in the Department of Criminology and Criminal Justice; Nick Pistentis, the director of client services for Information Technology Services; and Tiffany Bathrick, benefits coordinator for Human Resources.
MSU Denver works closely with AHEC's emergency-preparedness office, which offers CPR/First Aid/AED training, active-shooter training and advanced bleeding control.
Pokorny also noted other off-campus resources, such as the Community Emergency Response Training offered by the Regional Transportation District.
"The only way we succeed in these efforts is with help, and we couldn't be happier with the support we've received from our leadership here at MSU Denver," Pokorny said. "When you're prepared for anything, it goes a long way to lessen the impact of an incident."
Departments can contact Pokorny to set up training with the Auraria Campus Police Department or for more information on seminars put on by the Auraria Higher Education Center. You can reach him at 303-605-5294 or mpokorn1@msudenver.edu.
Keep an eye out for regular updates on emergency-preparedness efforts in the Early Bird.
Edit this page