April
5 reasons to volunteer for Roadrunners Give Back Day
From positive health impacts to professional development, there's a lot in it for you when you pitch in too.
April 2, 2018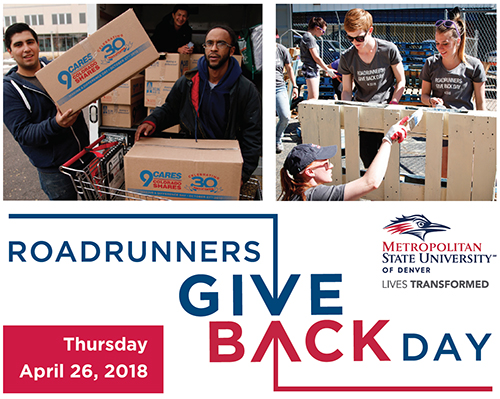 On April 26, hundreds of your fellow faculty, staff, students and alumni will come together for the 2018 Roadrunners Give Back Day, a united service opportunity at 17 sites throughout metro Denver.
But more than feel-good philanthropy, there are some real perks that come along, too. Here are five reasons to consider signing up for Metropolitan State University of Denver's RGBD 2018.
Batter up! You can receive free tickets to MSU Denver softball games against Adams State when you give back. Just go to the Roadrunner Athletics tickets site, select either game on April 27 or 28, and enter promo code "RGBD" for as many seats as you'd like.
Join us for a kickoff rally April 25 to pick up your free volunteer T-shirt, get some free food, meet the team leads and dance to a DJ from Met Media. It all starts at 2:30 p.m. outside the SSB (to be held inside in case of inclement weather) and runs until 5:30 p.m.
Looking for professional-development opportunities? Giving back can be a different way to put your expertise to use and develop new skills you may not have considered. According to a 2016 Deloitte Impact survey on building leadership skills through volunteerism, "92 percent of surveyed corporate human-resources executives agree that contributing business skills and expertise to a nonprofit can be an effective way to improve employees' leadership and broader professional skill sets."
Volunteering is good for you – literally. Findings from the Corporation for National & Community Service indicate a strong relationship between volunteering and lower mortality rates (including heart disease), greater functional ability and lower rates of depression later in life. And that "helper's high"? It's a real thing.
In a 1978 interview with Time magazine, Muhammad Ali said, "Service to others is the rent you pay for your room here on Earth."
Here's how it works:
Step 1: Visit the event site to find descriptions of the 2018 Roadrunners Give Back Day projects. Sign up for a project of interest.
Step 2: For faculty and staff using release time, complete the leave-request form, obtain supervisor approval, and email forms to Mauro Villaseñor in Human Resources. Employees completing a monthly time sheet will use leave code "V" for volunteer. Contact Villaseñor or Benefits Manager Amanda Berry with any questions.
Step 3: Follow the instructions to pick up T-shirts before April 26. Details on the Roadrunners Give Back Day kickoff event April 25 will be forthcoming.
Step 4: Perform volunteer service with pride, joy and a sense of learning.
Step 5: Provide input on your volunteer experience after the event.
Questions about RGBD? Contact Gordon Loui, director of strategic partnerships and community engagement.
Edit this page