March
Become an ELITE educator
Fully funded faculty-certification program designed to foster course quality; applications now open.
March 29, 2018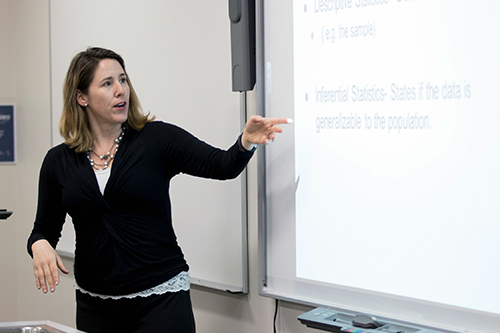 MSU Denver is accepting applications for the second annual E-Learning and Instructional Technology Exemplar professional certification program.
The costs of this external training, which is built to foster course quality, are covered as an investment to improve learner outcomes and engagement through effective course design. Since its inception in 2015, 35 MSU Denver faculty members have completed this rigorous certification process.
The ELITE certification program is structured to:
Sustain quality teaching and learning through proven effective strategies.
Equip faculty with practical methods of applying global standards and empirical research to enhance teaching practices.
Provide opportunities to connect internally and inter-institutionally with networks of faculty leaders focused on student learning success.
Identify methods of effectively engaging students and improving their critical-thinking skills by strategically using a learning-management system.
Enable faculty to become internationally recognized Quality Matters peer reviewers, providing additional collaborative opportunities and the possibility to earn an income while improving quality in higher education after the completion of all ELITE requirements.
Applications are due by 11:59 p.m. June 1. Space is limited, so only top applicants will be selected to participate. Selected candidates will be notified July 1 and will then have until June 30, 2019, to complete the program.
To apply for the opportunity to be an ELITE educator, please complete this application.
If you have any questions, contact Alex McDaniel at mcdaniel@msudenver.edu.
Edit this page