March
A new road for in-demand lab work
Partnership between MSU Denver's medical laboratory-science program and UCCS expands clinical opportunities for students.
March 28, 2018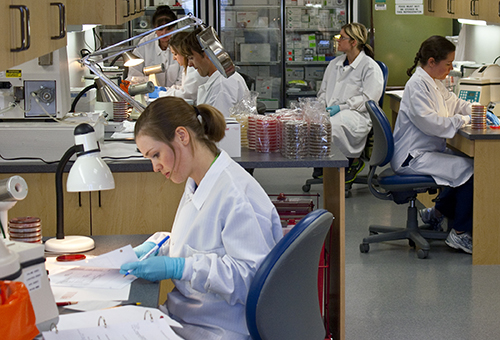 The Colorado Center for Medical Laboratory Science at Metropolitan State University of Denver is growing its academic and clinical partnerships outside metro Denver through a new pathway agreement with Helen and Arthur E. Johnson Beth-El College of Nursing and Health Sciences, University of Colorado Colorado Springs.
The program, which prepares students for in-demand jobs in yearlong post-baccalaureate study, houses a teaching facility in Aurora. Clinical rotation coursework takes place in more than 30 affiliate labs throughout metro Denver and along the northern Front Range corridor.
This new partnership will expand the program's footprint south: Students will now have access to clinical laboratory facilities at Centura Health-Penrose St. Francis Health Services, UCHealth-Memorial Hospital Central and UCHealth-Memorial Hospital North.
The reciprocal nature of the collaboration builds on the positive internal work with MSU Denver's biology and chemistry departments. And with a high number of retirements anticipated over the next five years in the medical laboratory science field, the CCMLS pathway program will help meet local workforce need for the Colorado Springs region, said said Karen Myers, director of CCMLS at MSU Denver.
"This new partnership is capacity-building; in addition to enabling (former UCCS students accepted into the program) the opportunity to come to Denver, it'll help students here who want to extend further south," she added.
Edit this page