March
You asked. She answered.
President Janine Davidson responds to a question about state funding, which she didn't have time to address at the Spring Update.
March 27, 2018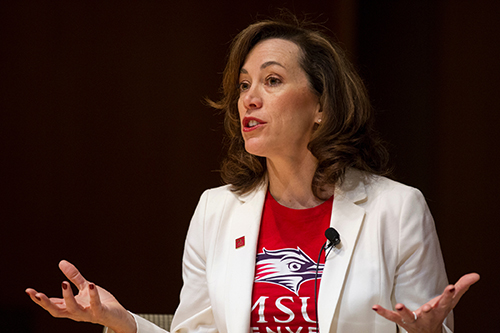 At the Spring Update on March 13, President Janine Davidson, Ph.D., fielded questions on three primary topics: inclusive leadership, legislative funding and campus safety. She also took questions from the crowd and via social media. In an effort to answer the questions she couldn't get to that day, she has agreed to share her responses in the Early Bird over the next several weeks.
Question:
Is there anything we can do as employees to help in our quest to increase our state funding?
President Davidson:
You can help by sharing the University's success stories. Tell your families, friends, colleagues and neighbors about the amazing work happening here. Share the articles in our newsroom and on Facebook, Twitter and LinkedIn. Every time you tell our story, you help the University get its message into the world, and you never know who might ultimately hear it.
For more direct action, you can join our University advocacy group, the MSU Denver Champions. As a Champion, you will be kept informed about what is happening at the legislature and could be called upon to share your experience with state decision-makers.
Public investment in higher education is the foundation of the American dream. It has shaped a conscientious citizenry, fueled progressive leaders and trained skilled employees in every sector. The dream slips away with every dollar directed elsewhere. Thanks in advance for helping spread the word about the value and power of public higher education.
Edit this page