March
Share your events with campus
Have something coming up? Make sure you post it on the MSU Denver events calendar. Here's how.
March 26, 2018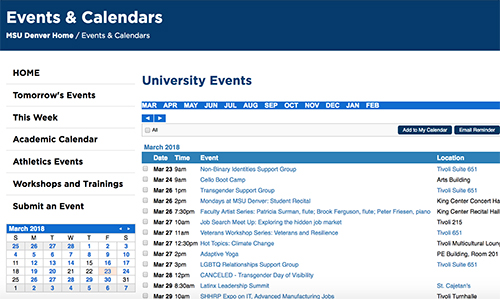 There's always something great going on at Metropolitan State University of Denver – so make sure you're letting your fellow Roadrunners know about it by submitting info to the University's events calendar, the go-to spot for getting the word out.
Here's how to get your information posted:
Click "Submit an Event" from the calendar page – or just go here.
Fill out the information, including your MSU Denver email address.
Make sure to include your department, as all events need a University-related connection.
Select the audience you'd like to target, including faculty, staff and students.
Wait 24-48 hours for posting.
Keep your confirmation messages in case of modification or cancellation.
Each approved event generates a unique link, which you can then point back to for further promotion.
That's all there is to it!
Edit this page