March
Creating award-winning instructional design
Team from MSU Denver to be honored for innovation in agile course structure, time-token system.
March 21, 2018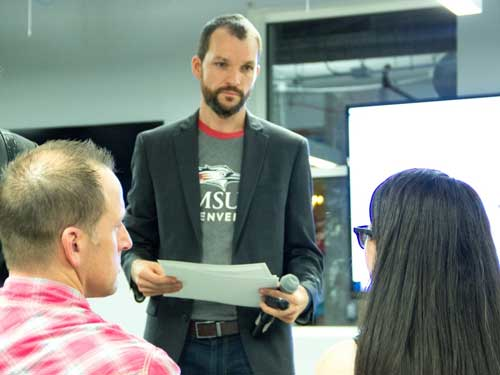 The Online Learning Consortium recognizes advancements in quality online education with its Effective Practice Awards. And as 2018 winners, Metropolitan State University of Denver's Agile Instructional Design Network (AIDNet) and Course Design Xchange (CoDeX) shine among the standouts.
"Having seen these awards in the past, it's fairly rare for them to award process-related practices," said Taylor Kendal, senior instructional designer and part of the team responsible for launching the two efforts.
AIDNet adopts an agile project-management methodology, working on individual components in an iterative manner; instead of software deliverable deadlines, however, it's applied here to courses. The cross-functional networked teams allow for flexibility and adaptability while working on a tighter scope.
"In the traditional process of building a course, you'd start with nothing, determine a title, fill in material, then when you're done you'd teach it that way … maybe forever," Kendal said. "This new approach is structured but also adaptive, allowing us to 'fail fast' and for processes and instructional content and strategies to continually evolve."
In conjunction, the group also developed CoDeX. It's essentially a small-scale institutional "market economy," introducing a token system: When needs come in from faculty or department leadership, instructional designers determine time for each project, then allocate resources as available.
Working in full development cycles, the approach moved the team away from a reactive approach to course design. And as each token is worth one hour of design work, projects can be more accurately assessed, accomplished and scaled.
"Within this data-driven approach, we can now precisely make the argument to leadership about our growing resource demands," Kendal said. "Time is the immutable factor in all of this; we asked, 'What's one element we can accurately quantify?'"
The distinction is one of eight to be awarded at the OLC Innovate conference in Nashville, Tennessee, in April.
Edit this page