March
Road construction: The backstory of Roadways
Find out what led to the establishment of the new one-stop shop for student success.
March 19, 2018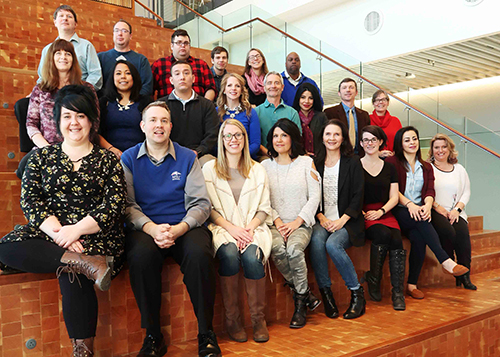 Over the past few years, academic advising at MSU Denver became decentralized. Staff advisors with area focuses moved into their respective departments and schools, while undeclared and exploratory advisors were in the Student Success Building.
Additionally, completion advising lived separately, as a part of the Student Academic Success Center. And when students would change majors or transfer in with half of a degree completed, there were often unique challenges that didn't fit the standard approach, said Lunden MacDonald, Ph.D., executive director of Roadways.
She also noted how advisors were stretched thin based on best practices set by the National Academic Advising Association.
MacDonald then pointed to several programs on campus, such as Colorado Challenge and the College Assistance Migrant Program, that have extremely high retention rates. And First Year Success – for students who had fewer than 30 credit hours completed – was an impressive effort.
The challenge? They were reaching only a small percentage of the MSU Denver population.
"There were different advising and support functions happening all over the University, both formally and informally," MacDonald said. "Students were bouncing back and forth based upon what bucket they fell into, often getting discouraged in the process.
"So with the recent reorganization, it wasn't about anyone doing anything wrong; we just needed to help students get to where they need to go to be successful."
Enter Roadways, a one-stop shop designed to bring together undeclared and completion advising together as a part of a holistic offering of wrap-around services. By combining academic-advising expertise with peer-mentor support and social elements, students will have advocates from the program's two divisions at each step of their journey: Orientation, Transition and Retention, to help new Roadrunners get established; and Student Success and Retention, to ensure they continually have the tools to thrive at MSU Denver.
The program is establishing an advisory-council steering committee; once that is in place, the University community will be invited to contribute via public meetings.
"We know what's working and we want to extend that to all students," MacDonald said. "It's all about removing barriers for students to be successful."
Roadways peer mentor applications for the 2018-19 academic year close March 30 – if you know students interested, have them sign up here.
Edit this page