March
Spring Update focuses on working together
Inclusive leadership, state funding, campus safety among topics at President Davidson's address to the MSU Denver community.
March 14, 2018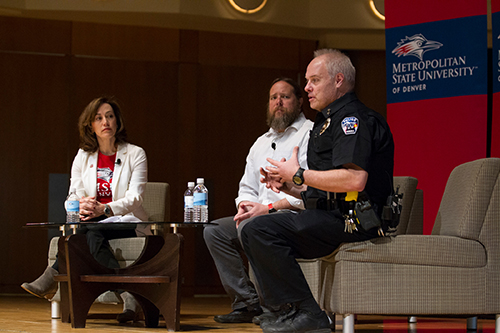 With warm collegiality, University President Janine Davidson, Ph.D., spoke of teamwork Tuesday morning in addressing inclusive leadership at MSU Denver and the University's request for funding from the Colorado legislature.
Interviewing Davidson onstage during the Spring Update at the King Center Concert Hall was history professor Matt Makley, president of the Faculty Senate, who emphasized a commitment to shared governance in the University's decision-making. The two of them opened the proceedings with a series of shout-outs to several members of the audience of roughly 250 students, faculty and staff.
Davidson defined inclusive leadership and how it can optimize outcomes at the University, setting "coordination over conflict" as an underlying goal. She held an inclusive-leadership summit in February to focus on the subject.
"I cannot do this alone," she said. "We need to find a way to tap the passions of our people. Better decisions will come from having more people involved. Everybody here is a leader."
When conflicts arise between factions, she wants to get people to find common ground and negotiate a positive resolution. She compared such scenarios with "The Boys on the Boat," a book about a rowing team at the 1936 Berlin Olympics, saying that getting all members of the team in sync is paramount. She asked those with ideas on how to implement inclusive leadership to submit them via the Idea Catcher on the president's webpage.
"We're going to bring those groups to the table," she said, "and focus on the problem."
One problem that has grown in recent years is the shifting of tuition cost-bearing from the state to students.
"Something is happening in America in higher education," Davidson said, pointing out that state funding for higher education has declined from roughly 70 percent of tuition costs to about 30 percent. A chart was presented that showed MSU Denver ninth in Colorado among tuition costs per resident student paid by the state.
In particular, the percentage of people of color in Colorado who have college degrees is less than half the rate for whites, she said, calling the disparity "unacceptable."
Raising the number of degrees earned by students of color is "what we exist to do," Davidson said.
"We're becoming a world-class university," Makley said, with Davidson adding that Colorado is among the states that provide the lowest amount of assistance for higher education.
Davidson said the University is asking the legislature's Joint Budget Committee for $7 million in added funding this year. "We're hopeful of catching up," she said.
"We can't stop talking to the legislature," Makley said.
Noting the importance of public opinion in swaying the legislature, Davidson implored the audience to discuss the subject among friends and peers. She suggested that attendees become MSU Denver Champions at msudenver.edu/champions. "Chat it up," she said.
Campus safety was addressed, with University Police Chief Mike Phibbs ascending the stage to join Davidson and Makley. Phibbs noted the inherent vulnerability of a university campus to not only shootings but also stabbings or attacks by vehicles, adding that MSU Denver has installed several unobtrusive barriers around campus to guard against such attacks.
Phibbs asked attendees to call the dispatch line at 303-556-5000 or text the Text-a-Tip line at 720-593-8477 any time they feel threatened or someone they know begins acting differently from their usual behavior. Text-a-Tip allows witnesses to quietly take photos of a suspicious or dangerous situation and send them to dispatch, which will get officers on the scene. "We're always here," he said.
A significant number of classroom doors are without locks, which has sparked some concern. Phibbs said locks can sometimes be a hindrance to escape and that funding doesn't exist to retrofit rooms that don't have locks.
The campus police department offers a 90-minute presentation on safety that it will present to large groups or those as small as two or three people, Phibbs said.
Phibbs said officers have been working with health professionals to learn how better to respond to medical emergencies. If there is such an emergency, he said, "we will give you the best response possible."
"It breaks my heart to be having this conversation," Davidson said.
A pair of students were recognized at the outset of the proceedings. MSU Denver sophomore Fernanda Gonzalez is one of MSU Denver's many students covered under DACA. She worked and saved after high school and chose to attend MSU Denver because of its affordability. Ethan Menzies is a transfer student in the Applied Theatre Technology and Design Program. He is a member of the Tech Club, which provides the opportunity for students to volunteer in the broader Denver community and attend conferences for theatre technicians.
Questions via Twitter for the president were solicited before the event, with the hashtag #MSUDenverPrez requested. If you had a question that went unanswered, it will be answered in an upcoming edition of the Early Bird.
"We're still listening to you," Davidson said, adding, "Love what you do. Do what you dig."
Edit this page