March
Inside the President's Cabinet
Which author will speak at commencement? What do people think about the Early Bird? Answers to those questions and more in the March 12 meeting recap.
March 13, 2018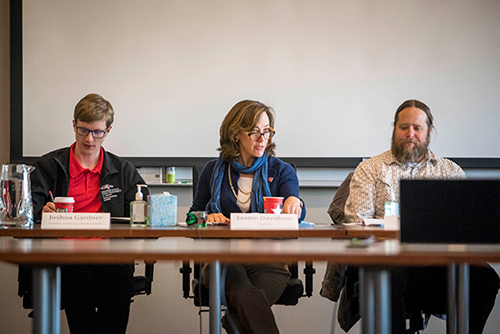 Couldn't make it to the March 12 President's Cabinet meeting? The Early Bird has you covered. Here are the highlights.
Speaking of commencement
Award-winning author and journalist Gayle Lemmon will speak at commencement May 11.
"I am excited to announce that we will have a commencement speaker for the first time in more than five years," said President Janine Davidson, Ph.D. "She (Lemmon) is a dynamic person and comes from humble beginnings, so she really gets us (MSU Denver)."
Lemmon is the author of New York Times best-sellers "Ashley's War: The Untold Story of a Team of Women Soldiers on the Special Ops Battlefield" and "The Dressmaker of Khair Khana." She is also a national-security analyst for CNN and serves as an adjunct senior fellow at the Council on Foreign Relations in its Women and Foreign Policy program.
Early Bird soars in recent survey
The results from the Early Bird survey are in – and mostly positive. The survey was created to determine the efficacy of the daily employee-engagement email in its first year and to serve as a springboard for improvements.
Highlights included:
94 percent of respondents were satisfied with content; 54 percent were very satisfied.
98 percent read two to three times a week; 76 percent read daily.
95 percent found the content relevant.
Some of the recommendations that will be implemented as a result of the survey include:
Weekly events calendar.
Weekly social media wrap up.
Seeking out and featuring more guest contributors.
Stay tuned to the Early Bird for an in-depth article about the results soon.
Hackers: not welcome
Information Technology Services presented on how the department keeps campus computers secure. The department uses next-generation tools to mitigate threats, runs assessments for vulnerability and regularly patches devices and software, among many other things.
Mike Hart, director of security, infrastructure and network services, shared helpful tips on how individual users can stay safe. He suggested being skeptical about requests for any information or authentication, and contacting ITS if you notice anything suspicious. You can forward suspected scams to spam@msudenver.edu or contact the help desk at 303-352-7548 or support.msudenver.edu.
The ITS security team also is available to present on this topic to any interested departments or offices.
And other updates
Davidson charged the Emergency Preparedness Committee with taking a deeper look at a potential active-shooter scenario and to report back on its findings at the April 9 cabinet meeting. The committee will present its research and recommendations.
Davidson commended the students, faculty and staff who participated in MSU Denver Day at the Capitol last week. More than 200 students attended and made a strong impression on legislators. The event was sponsored by the MSU Denver Champions.
ITS reported that better wireless internet is on the way. The department is performing wireless improvements across campus and seeing positive results.
The Professional Development Conference is scheduled for May 17 in the King Center. The planning committee's goal is to have 500 participants this year. Presentation proposals are due March 19. Direct any questions to pdc@msudenver.edu.
The women's basketball team's season ended Saturday after a strong showing in the NCAA Division II tournament. Athletic Director Anthony Grant praised the team, head coach Tanya Haave and the coaching staff for their accomplishments.
The Department of Athletics is taking a leadership role on sexual-assault awareness and prevention. Join student-athletes in taking the It's On Us pledge to support this important cause.
360-degree evaluations are due March 19. Please complete the evaluations to provide valuable feedback to your colleagues.
Sign up for Roadrunners Give Back Day. The University's annual day of service will be April 26.
For those who can't attend cabinet meetings, you can always listen online. The next meeting is scheduled for April 9 from 9-10:30 a.m. in SSB 400. All members of the campus community are welcome.
Edit this page