March
Positive enrollment trends
Spring census numbers reveal improvements in FTE, credits hours and more over 2017.
March 6, 2018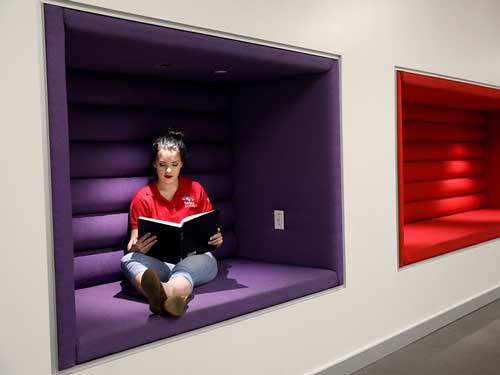 A close look at spring enrollment shows many key numbers are up.
Full-time equivalency is up 0.3 percent, which means students are taking more credit hours with the average increasing to 11.54 from 11.28 over a year ago.
Vaughn Toland, executive director of admissions and outreach, attributes the positive movement to years of pushing students to take more credit hours, and communicating the advantages of the tuition window.
The overall head count is down 1.3 percent, or 234 students, compared to spring 2017. Currently, 18,161 students are enrolled.
However, MSU Denver's enrollment numbers for diversity showed a number of advances. Overall in spring 2018, total student diversity at MSU Denver is 42.1 percent. The number of students of color increased 6.4 percent as well.
"A lot of that is that we're recruiting more Hispanic students and students of color and that has helped us build our numbers," Toland said.
Hispanic student enrollment is above where it was in spring 2017 at 26.2 percent.
Angela Marquez, special assistant to the president for HSI, said the University will need to maintain 25 percent Hispanic enrollment for the next years to be eligible for federal HSI designation in December 2019.
There are more positives, too. The number of transfer students remained flat, which means MSU Denver has successfully attracted transfer students from community colleges, who are experiencing historically low enrollments.
In addition, MSU Denver's concurrent enrollment program has led to a 5.1 percent increase in new students.
"The past few years we've been in the negatives for spring new student enrollment," said Michael Nguyen, director of enrollment management, systems and operations. "But you can see the benefit of concurrent enrollment's overall effect on our University. Students may not have known about us but it gives them exposure to the University. We're trying to be as proactive as we can with those students."
The median age of MSU Denver students crept downward to 23 with a 15 percent increase in students age 19 or younger.
Enrollment numbers also showed a small increase in the number of students from outside the seven-county metropolitan Denver area of 1.7 percent.
Topics: Hispanic Serving Institution
Edit this page