March
Lauren Sullivan to attend National Security Seminar
Director of veteran and military student services will be one of 160 civilians.
March 5, 2018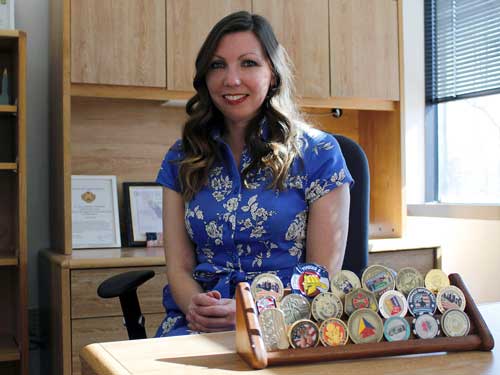 For a few days in June, Lauren Sullivan will serve as a national security advisor of sorts.
Sullivan, MSU Denver's director of veteran and military student services, has been selected to attend the Army War College's 2018 National Security Seminar. Sullivan will be one of 160 civilian invitees, who will offer non-military viewpoints to active-duty military and national security officials.
"It's a big honor, it's super exciting," Sullivan said. "It's a chance to network and learn from these incredibly accomplished leaders."
Sullivan will travel to the Carlisle Barracks in Carlisle, Pennsylvania, from June 4-7 for the seminar.
Joe Rice, an MSU Denver alumnus and former Army lieutenant colonel, nominated Sullivan.
"I have a very high opinion of Lauren's commitment and work with student veterans," Rice said. "I believe she will learn a lot from this program that will help in her work. She also has a lot to contribute to the seminar by offering her experiences with student veterans to this group of senior military leaders."
President Janine Davidson presented at the 2017 conference in her former capacity as undersecretary of the Navy.
Edit this page