February
What happened to the Educational Technology Center?
All ETC services are still available. Here's how to connect with them.
February 26, 2018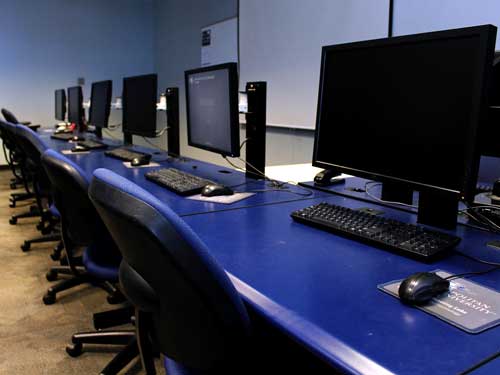 Let's start by stating that the services and people in the Educational Technology Center haven't gone away. They just have a new organizational structure.
When Director Michael Erskine left in July 2017, Academic Affairs and Information Technology Services thought it was a good opportunity to reevaluate the overall structure of the ETC. As a result, leadership from both areas decided to restructure the three parts of the ETC earlier this year.
Specifically, the Instructional Design Team joined the Center for Faculty Excellence, while the Learning Spaces Team and the Instructional Technology Team joined other existing teams within ITS. The Learning Spaces Team now reports to Nick Pistentis, director of Client Services, and the Instructional Technology Team is now part of the Security, Infrastructure, and Network Services team, which is directed by Mike Hart.
"Perhaps the biggest benefit of the change is the integration of expertise and methods of the Instructional Design Team with the teaching and learning initiatives at the Center for Faculty Excellence," said Jeff Loats, director of the CFE.
What the Teams Do
The teams are still located in Central Classroom 220 and provide these services:
The Learning Spaces Team is responsible for setting up and maintaining the various technologies used in the classrooms. This team also manages the Student Computer Labs that are strategically located throughout campus.
The Instructional Design Team assists faculty with thinking carefully and systematically about the most effective ways to design, develop, and deliver instructional materials. This team brings extensive technical expertise to their research-driven framework and focuses on collaboration, innovation and continuous improvement. The team can be reached by contacting Alex McDaniel (mcdaniel@msudenver.edu or 303-615-0832) or Taylor Kendal (kendal@msudenver.edu 303-615-0673), or you can visit them in CN 220.
The Instructional Technology Team administers various computer systems that support teaching and learning, such as Blackboard Learn and Digital Measures. This team performs many behind-the-scenes services that keep MSU Denver's academic technology systems running smoothly. This team also provides technical assistance for faculty using Blackboard Learn in the Blackboard Faculty Support Lab in WC 243.
For a visual depiction of the services related to teaching and learning that are available to you, please see the PDF.
For Assistance
If you need assistance with information or academic technology, including Blackboard Learn, classrooms, or student labs, please contact the ITS Helpdesk at 303-352-7548 or support.msudenver.edu.
Walk-up technical help with Blackboard Learn is still available in the Blackboard Faculty Support Lab in WC 243 (on-demand or by appointment).
Edit this page