February
Effort by Advancement and Marketing and Communications recognized
President's Collaboration and Teamwork Award given to group that produced the Roadrunner Development Report.
February 26, 2018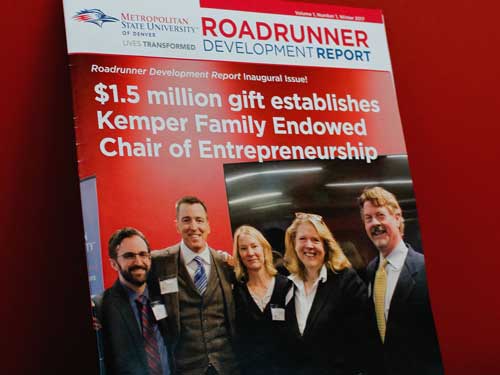 Members of MSU Denver's Advancement and Marketing and Communications team were recognized with the second President's Collaboration and Teamwork Award.
The 12 co-workers came together to create the first ever Roadrunner Development Report late in 2017. The report, which rounded up stories about giving to MSU Denver, was credited with helping the University close 2017 nearly $1 million ahead of the year before.
"They were under a short timeline, came together as a team and worked on this in just six weeks," Davidson said. "The [Roadrunner Development] report goes out to a lot of our key and prospective donors and it champions people who've been supporting us, but it also motivates other people to support us and it did that."
Awardees included Kyle Backlund, Steve Galpern, Jamie Hurst, Alyssa Joseph, Ran Railey, Traci McBee Rowe, Gwen Thompson and Lynne Winter from Advancement, and Julie Lucas, Ruth M'Gonigle, Julie Strasheim and Scott Surine from Marketing and Communications.
The award was given out at the Feb. 12 President's Cabinet meeting.
Edit this page