February
Hello, my name is Roberto Nava
New associate education dean knows about first-gen students firsthand.
February 21, 2018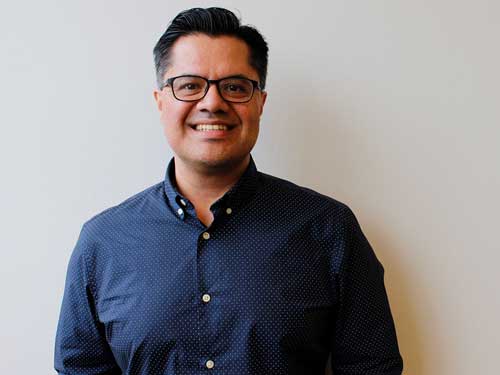 Roberto Nava may have come to MSU Denver from a school on the West Coast, but he's got a lot in common with one of the University's most important student groups. He's a first-generation college student.
Nava, who served as director of teacher education at Warner Pacific University in Portland, Oregon, before coming to MSU Denver in late 2017, became the first person in his family to attend college after he enrolled in Oregon State University. Now, he takes over as associate dean of the MSU Denver School of Education.
Nava took a few minutes to share what he'll be doing at MSU Denver, discuss the role of education and name his favorite stand-up comics.
What will you be doing in your position?
As associate dean, I co-lead the School of Education with Dean (Elizabeth) Hinde. My first tasks are to spearhead a program-level assessment system for the school and to focus on curriculum issues.
What do you hope to accomplish?
My goal is to support the good work happening in the SOE. There are many external factors that impact educator preparation programs and how we grow and change, including state accreditation requirements, current state statutes and promising practices from research that we need to know to inform our decision-making. My goal is to facilitate factors like the ones I mentioned to help faculty continue to develop effective teachers that serve children well.
What attracted you to MSU Denver?
I have a passion for serving the students at MSU Denver! I choose to work at a place where many students are first in their family to attend college and where diversity is valued and seen as an asset. I find it satisfying that I have a part in helping students achieve their dreams. In the same way that I had key people provide me with opportunities that helped me achieve my goals, I want to offer opportunities to others so that they can achieve their goals.
How did you get involved in your career in education?
I started in education later in life. I graduated with my bachelor's degree in business administration and worked for Federal Express Ground in middle management. However, I wanted to work to make a difference in people's life more directly. I decided to return to school and earn my master of arts in teaching and become an elementary-school teacher. All of my public-school career was spent serving in low socioeconomic, high racially, ethnically, and linguistically diverse schools. It was so rewarding. However, I felt the desire to make a broader impact on communities, so I pursued a Ph.D. and pursued a career in higher education.
In your view, what's the advantages of getting an education degree at MSU Denver?
MSU Denver is committed to supporting all students and providing students with access to educational resources in order to achieve their goals. We are one of the largest universities in Colorado, so our connections spread wide within the workforce through the many Roadrunner alumni in the state. This provides our students with connections and networking opportunities with fellow Roadrunners that may lead to job offers and other opportunities.
We also offer a long list of majors in diverse fields. We are also the most affordable university in the state, so students don't graduate with a high amount of debt as compared to graduating from other institutions.
What's something about you that people at MSU Denver don't know?
I am a first generation American. My parents are from Juarez, Mexico, but I was born in El Paso, Texas. I grew up in poverty and was first in my family to graduate from college. I feel like my story is similar to many of the students we serve at MSU Denver. Two of my degrees are from a state university, so I can relate to many of the experiences that all our students face.
We heard you love comedy. Who's funniest comic in the land?
"I love attending comedy shows, so I've gone to a handful of shows in town. Josh Blue is hilarious and he's local so he's definitely one of my favorites. More internationally, I like Anjelah Johnson and Gabriel Iglesias. They are hilarious."
Edit this page