February
Employees can see "Guys and Dolls" free
Faculty/Staff Appreciation Night scheduled for Feb. 21.
February 14, 2018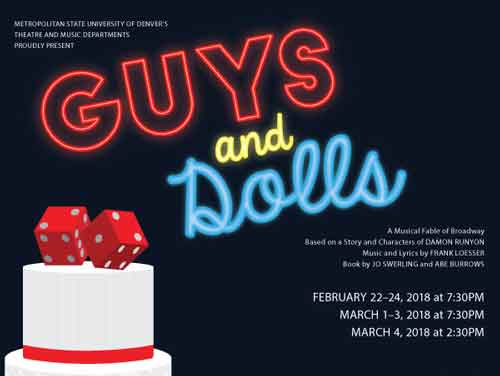 Any MSU Denver employee who can sing along with Nathan Detroit or wants to travel back in time to the world of Damon Runyon can do so free.
For the first time, the MSU Denver Theatre Department is hosting a Faculty/Staff Appreciation Night on Feb. 21. MSU Denver employees are asked to bring a non-perishable food item.
"Guys and Dolls"
Time: 7:30 p.m.
Date: Wednesday, Feb. 21
Location: Eugenia Rawls Courtyard Theatre
RSVP no later than Feb. 20 to Megan Euler at eulerm@msudenver.edu or 303-615-0393.
There is no need to go to the box office. Go directly to the theatre lobby doors with your non-perishable food item.
Edit this page