February
Get on board
Fond farewells, faculty sabbaticals and a new master's degree among highlights from Board of Trustees meetings Feb. 8-9.
February 12, 2018
By Dan Vaccaro
MSU Denver's Board of Trustees held its first meetings of 2018 on Feb. 8-9. In case you couldn't make one of the public sessions, here are the highlights.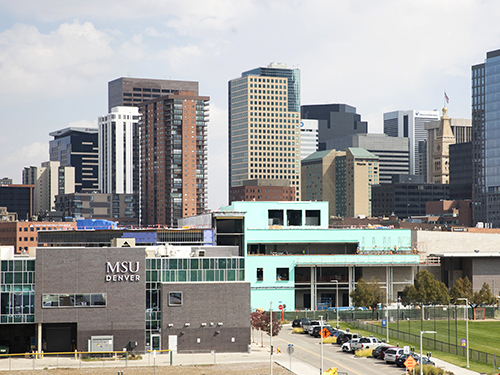 Take a bow: Sandra Haynes
Sandra Haynes, Ph.D., was awarded emeritus status for her 23 years of service at MSU Denver.
Haynes, the University's deputy provost since 2016, announced in December that she had accepted a position as the chancellor at Washington State University Tri-Cities. She will assume her new role in March.
"It really feels like I'm leaving my family, but after 23 years, you need to move out of the basement," she said, flashing the trademark wit that has made her a beloved figure at the University for more than two decades.
President Janine Davidson, Ph.D., thanked Haynes for her "remarkable leadership" and presented her with a framed set of photos.
Haynes served as dean of the College of Professional Studies for more than 13 years, and was a faculty member in the Department of Human Services from 1994 to 2000. She was an undergraduate student at MSU Denver for two years.
Sabbaticals approved for 23 faculty members
Twenty-three faculty members applied for sabbatical and all requests were approved by the board. Applications came from 17 different departments across the University with the College of Letters, Arts and Sciences leading the way.
When Provost Vicki Golich, Ph.D., arrived on campus in 2009, only three faculty members were on sabbatical. She spearheaded the effort to make sabbaticals more available to talented faculty.
"I am thrilled to see faculty applying for and receiving sabbaticals," she said. "Outcomes have included novels, an opera, books and articles (naturally), study abroad and curriculum proposals. It is truly the gamut of possibilities and completely appropriate for MSU Denver faculty!"
See a full list of the faculty projects in the Early Bird this week.
New year, new master's
The Master of Science in Nutrition and Dietetics degree and certificate came one step closer to launch by garnering Phase One review process approval from the board.
The degree was developed to ensure that students who want to be registered dietitian nutritionists can reach their career goals. Starting in 2024, a master's degree will be required to get an entry-level job in the field.
According to the Bureau of Labor Statistics, jobs in the nutrition profession are expected to grow at a rate of approximately 16 percent over the next eight years. This translates to approximately 11,000 new positions in areas such as hospitals, long-term care, community clinics and school food-service, among others.
MSU Denver's program would be the first in the metro area to meet that workforce demand, and one of only three programs statewide.
Students in the program could choose between two tracks. They could combine their degree with an internship, qualifying them to sit for the Registered Dietitian Nutritionist exam, or complete the degree without an internship. A 12-credit graduate certificate in advanced nutrition would also be available.
How the University plans to save $6 million
The finance committee presented on how HLC@Metro, the nonprofit corporation that owns the Hotel and Hospitality Learning Center, can save millions of dollars through a refinancing maneuver known as a forward starting swap.
Essentially, the refinancing will lock in a significantly lower interest rate on bonds over the course of 22 years. The University's current effective rate is 4.4 percent, while the rate under the refinance would be closer to 3 percent, and go into effect in 2020.
The move is estimated to result in savings of $300,000 per year. Over 22 years that could provide an additional $6.6 million to the MSU Denver Foundation, at least half of which would be earmarked for student scholarships.
The board unanimously approved this refinancing option, as did the board finance authority. It was previously approved by HLC@Metro.
Stay tuned to the Early Bird for more in-depth coverage on this topic.
Teaching without textbooks
Emily Ragan, Ph.D., is pioneering a movement at MSU Denver. The assistant professor of chemistry has been teaching with open educational resources – materials that can be accessed for free online – rather than requiring students to purchase textbooks.
Because of her work in this area, Ragan was selected to chair a statewide OER council. The group hired a consultant to study which universities were using these types of resources.
"We found that every university was concerned with the affordability of higher education, but that awareness of OER resources was very low," she said.
Ragan reported that the cost of textbooks has risen more than tuition and fees in recent years, often presenting a major financial challenge for students. In Colorado, students pay on average $529 per year for textbooks and materials, which costs them approximately $11 million.
"At a school where we are already so interested in student needs and costs, we can make a huge impact," she said. "My goal is to empower faculty to consider the full field of resources available to them."
Ragan's work with the council and MSU Denver's government relations team has resulted in a bill being drafted for the state Legislature, which will request funds to increase use of OER resources statewide.
Athletes score big in the classroom
In fall 2017, MSU Denver student-athletes had a record-breaking semester. As a group, they earned a 3.2 GPA and nearly 90 made the honor roll with a GPA of 3.5 or higher.
Many of the student-athletes who earned these honors introduced themselves to the board, sharing their majors and hometowns. The students hailed from cities as close as Aurora to countries as far as New Zealand, and studied everything from finance to mechanical engineering. They received an ovation for their achievement.
The volleyball team was called out specifically for qualifying for the NCAA national tournament and maintaining an impressive team GPA of 3.7.
For information on future board meetings or to read board agendas, visit the Board of Trustees website.
Edit this page