January
Faculty Senate update
Open educational resources, advisory council updates and several guests among highlights.
January 22, 2018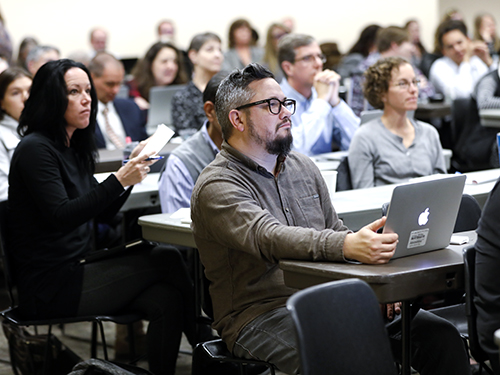 The first Faculty Senate meeting of the spring semester kicked off by welcoming several guests who addressed the assemblage:
Emily Ragan from the Chemistry department also addressed the senate to discuss feasibility and recommendations for voluntarily implementing open educational resources (OER), which are public-domain tools for teaching, learning and research.
Ragan was tapped to chair the OER Council for the Colorado Department of Higher Education with the passage of state Senate Bill 258. The group has complied a report exploring how OER could significantly benefit students through cost savings, improved learning and higher student retention.
Matt Makley, Faculty Senate president and history faculty member then provided updates from the recent President's Cabinet meeting, including progress of the President's Advisory Councils.
"This is a new way of shaping institutional business on campus," said Makley. "The advisory councils are the opportunity to provide information to make decisions that affects us all."
Other business included:
The curriculum committee approved a modification to four course prefixes so that each in the Masters of Business Administration degree will now carry the "MBA" descriptor.
There were calls for new members to join the academic policy and faculty welfare committees.
Edit this page