December
Check out "Miracle at Tepeyac" this holiday season
Production features three MSU Denver students.
December 13, 2017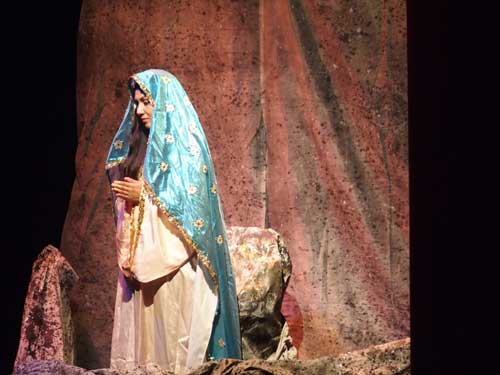 This year's production of "The Miracle at Tepeyac" has strong MSU Denver connections.
Three MSU Denver students — Jorge Dominguez, Genesis Ruiz and Cameron Neuman — are featured in the production while the nationally recognized Su Teatro Cultural & Performing Arts Center is staging the holiday play in collaboration with the MSU Denver Diversity Fund.
First performed in the 1970s, "Miracle at Tepeyac" tells the story of a 57-year-old native of Mexico who has an encounter on a small hill called Tepeyacatl that will transform two continents. The play calls audience members to question what it means to serve a higher purpose and what if that purpose was each other.
Su Teatro's original production of "Miracle at Tepeyac" was performed in the church hall of Our Lady of Guadalupe Church in north Denver. That retelling of Our Lady of Guadalupe's visit with Juan Diego helped inspire today's version.
In of "Miracle at Tepeyac," playwright and director Tony Garcia, who also serves at Su Teatro's executive artistic director, juxtaposes Juan Diego's journey in 1531 with that of a church community from a poor barrio. Garcia's play presents a universal message of family, faith and redemption.
True to form, Su Teatro's "Miracle at Tepeyac," blends indigenous, Spanish and New Mexican music, rhythms, dance and pageantry. Su Teatro's productions also touch on current social issues and celebrate seasonal traditions. With many immigrants finding refuge in churches and community organizations, this play will warm spirits and give a renewed sense of hope.
Holiday traditions at Su Teatro are always part of our productions with music, smells, treats, and a holiday market set up just for audiences. Su Teatro is a proud resident of the Santa Fe Arts District and joins with other arts organizations to give guests a warm, inviting and home-like atmosphere — perfect for the holidays.
The "Miracle at Tepeyac" runs Dec. 7–23 at Su Teatro Cultural & Performing Arts Center, 721 Santa Fe Drive. Curtain for evening performances is at 7:30 p.m. with Sunday matinees at 2 p.m. Ticket prices vary with special discounts throughout the run and can be purchased online, by phone at 303-296-0219 or at the Su Teatro Box Office.
A limited amount of free tickets are available to MSU Denver students and employees for performances Dec. 14-16 and Dec. 21-22. To pick up tickets, visit the Department of Chicana/o Studies in the Rectory Building, Room 101. A 900-number is required.
In addition, Clinica Tepeyac and AARP collaborated on the production.
On Dec. 23, Su Teatro will present the St. Cajetan's Reunification Project, a program designed to reconnect families who once lived in the Westside neighborhood that now houses the Auraria Campus. Students and community members will engage in numerous interactions including story circles and art production.
Edit this page