December
Faculty Senate update
President Davidson visits, a resolution for undocumented students and high-impact pedagogy among highlights.
December 12, 2017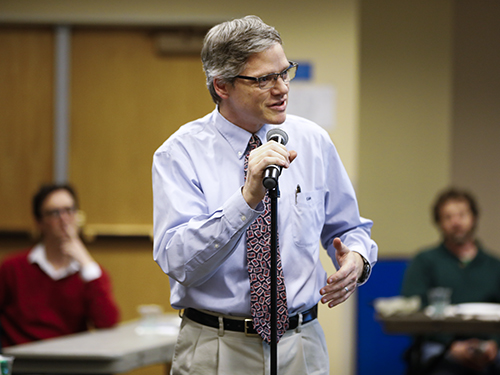 The jam-packed final fall semester meeting of the Faculty Senate kicked off by welcoming President Janine Davidson to address the group.
Davidson detailed the history of and ongoing plans for her presidential advisory councils; she emphasized that these are not designed to replace or displace any of the University's identity-based stakeholder groups such as the Council of Chairs and Directors and Faculty Senate.
"As president, I can't lead without everyone – especially the faculty, who are doing the most important part of MSU Denver's mission every day," said Davidson. "My responsibility is to leverage the brilliance, creativity and insight of as many of you as possible in this process."
She then briefly noted some of the issues each of the councils might work on, with next steps of the council chairs putting together a draft charter and hitting the ground running at the start of 2018. Davidson also encouraged everyone to get involved, answering several questions from the floor about fundraising, communication and transparency.
"Participation needs to be as diverse and representative as possible, as we're setting the table for this to be enduring," she said. "Decisions get made by the people who show up, so please – show up and volunteer."
The next guests of the senate included Lunden MacDonald, director of the First Year Success program and associate faculty of Spanish; and Jeff Loats, professor of physics and incoming director of the Center for Faculty Excellence. They detailed some of the changes occurring to improve instructional elements, including opening up classroom space in the Student Success Building to classes focused on high-impact practices as part of the new Student Centered Active Learning Environment (SCALE) model. SCALE classes will be placed physically close to student success resources and will have a dedicated peer support individual.
Faculty interested in submitting applications to participate should do so before the Dec. 22 deadline. MacDonald and Loats addressed several concerns from the floor and encouraged others to connect with them for questions and information.
Ibon Izurieta, associate dean of the College of Letters, Arts and Sciences and Luis Torres, interim chair of the Department of Communication Arts and Sciences, then addressed the senate, introducing a proposed resolution to build on the University's advocacy for undocumented students that continues to this day.
After a brief discussion, Matt Makley, Faculty Senate president and professor of history, called for an approval to vote and a subsequent vote, which passed with 97 percent in favor.
Other business included:
Jeff Parker, assistant professor of theatre and chair of the faculty welfare committee, provided updates on research into dependent tuition benefits and their positive effect on employee retention and productivity.
Adriana Nieto, associate professor of Chicana/o studies and chair of the multicultural review committee thanked members for service, and provided updates: Four transfer courses are being petitioned to meet the multicultural degree requirement and the committee is reviewing four MSU Denver courses for consideration of the same.
Jean-Francios Duclos, assistant professor of French and chair of the curriculum committee, reported several program updates, including a proposed new interdisciplinary minor in lifestyle medicine, along with course/program modifications and new courses.
The academic policy committee detailed the proposed change to the process of awarding posthumous degrees; the senate voted to approve the change with 98 percent in favor.
Kenn Bisio, faculty trustee and associate professor of journalism and technical communication, welcomed senators to a meet and great with the Board of Trustees on Friday, Dec. 8. Edgar Maldonado, assistant professor of computer information system, is to address the group.
Makley thanked the group for their service and ongoing commitment to student success; he also wished everyone well in finishing the semester and a happy holiday season.
Edit this page