November
Hello, my name is: Ally Garcia
Garcia to serve as president of the Colorado chapter of ASPIRE, the state board for TRIO professionals in Colorado.
November 29, 2017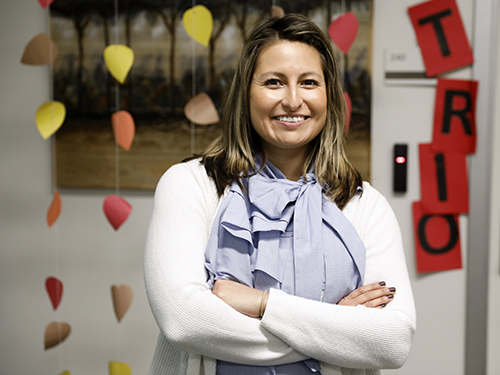 Ally Garcia is the director of TRIO Student Support Services, a program housed within the Center for Equity and Student Achievement. Garcia was just voted president-elect of the Colorado chapter of ASPIRE, the state board for TRIO professionals in Colorado.
How long have you been at MSU Denver, and why did you choose to work here?
I have been at MSU Denver for almost three years. I chose MSU Denver for many reasons. First, I am a two-time MSU Denver alumna. I received my undergraduate and graduate degree from MSU Denver. When I moved from my hometown, Pueblo, in 2008, I came to the institution as a student and have never really left in one way or another. I firmly believe in the power of education and fell in love with MSU Denver's mission, values and students. I truly believe we are fighting a good fight and that we are in the business of changing lives. I wanted to be a part of this work and love every bit of my job!
Who does TRIO Student Support Services serve and how?
TRIO Student Support Services (SSS) is a federally-funded grant program that serves students who are first-generation, low-income or have disabilities. We do this through comprehensive advising services, one-on-one tutoring, and academic and personal growth workshops. We also have a lot of fun in our office by providing students opportunities to attend cultural events in the community such as plays and ballets. We explore graduate schools by visiting campuses all over Colorado. We have been to almost every campus that offers graduate degrees in Colorado. We want our students to have an enriched college experience through adventures and critical thinking.
The grant is funded for five years and we soon will start preparing for the next grant cycle.
How does the mission of TRIO fit into the Center for Equity and Student Achievement?
The Center for Equity and Student Achievement is the larger umbrella that TRIO SSS fits under. Both CESA and TRIO SSS care deeply for the need for equity in education. All of the programs in CESA are focused on helping students be the best they can in life and in school. We meticulously and intentionally create programs that aid in developing the student as a whole. We use critical methodologies to look at issues. Through purposefully peer-reviewed journal articles, we seek to become a better center every day. We value students' stories and voices and advocate for change. We celebrate victories and mourn loss – we are a family.
What future goals do you have for TRIO?
I hope to continue the success we have in TRIO by refining our practices and procedures. I hope we never stop learning and growing and that we can continue to impact students' lives at MSU Denver for years to come.
What do you like most about your job?
I love my job! I love everything about my job but my very favorite part of my job is the relationships that I get to development with students and colleagues. The students on this campus have amazing stories. They are so strong and capable. I am so privileged to be able to share in this educational journey with them.
What is ASPIRE and what does your new role mean for you and for MSU Denver?
ASPIRE is the state board for TRIO professionals in Colorado. At our meetings we discuss initiatives, how to help each other maintain our grants and learn better ways to service our students. As president-elect, I will be learning the ropes of what the state president does. I will be the person in contact with state policies and will find out what is coming from the Colorado Department of Higher Education. I will organize, with the help of ASPIRE president Brandi Scott (director of CESA at MSU Denver) a National TRIO Day Celebration.
Any leadership role that anyone in our MSU Denver community undertakes helps the community as a whole. As I make new connections, study and learn best practices and talk to state representatives, I carry that information with me and share it with my MSU Denver family. We are only stronger together. I hope to bring new ideas to the table and critically analyze problems from new angles.
What is something people might not know about you?
I coach high school softball and still play in a women's league in the summer!
Is there anything else you'd like to share with the MSU Denver community?
I am very proud of the work we all do for our students. It is a pleasure to work with such dedicated and talented folks.
Edit this page