November
Announcing new academic technology tools
ITS has implemented some new technology designed to enhance teaching and learning.
November 9, 2017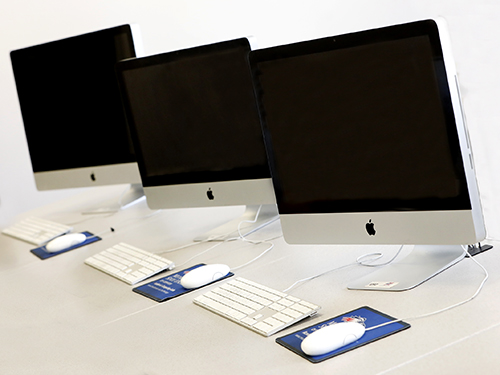 The ITS Educational Technology Center recently implemented the following new tools designed to support and enhance teaching and learning at MSU Denver:
VoiceThread provides an easy way to create dynamic, asynchronous conversations to help enhance student engagement and collaboration. With VoiceThread, instructors and students can share and discuss information using their voice, images, video and text. And it's easy to implement because it is already integrated into Blackboard Learn. To learn how to use VoiceThread, register for a free informational webinar that is customized for MSU Denver or find helpful information on MSU Denver's VoiceThread webpage.
Kaltura Media enables faculty to view, record, upload, publish, search and share video directly within their courses in Blackboard Learn. Creating video content in a variety of Blackboard tools such as the discussion board, blogs and journals can help improve student engagement, creativity and learning. Find out more on the Kaltura Media webpage or by visiting the Faculty Commons in West Classroom room WC 243 during our Faculty Support Hours.
Examity is a virtual proctoring service for lower-stakes assessments. Examity student authentication requires a student to snap photos of their ID and face, answer challenge questions and enter a biometric keystroke signature to verify their identity before taking an exam. To learn more about Examity, register for a free webinar or visit MSU Denver's Examity informational webpage. For specific questions, please contact the MSU Denver Examity representative.
ProctorU is an online proctoring service that allows students to take exams virtually anytime or anywhere while ensuring the integrity of the exam for the institution. With ProctorU, live proctors monitor exams by authenticating the student's identity, observing the student via their webcam and watching the student's computer screen in real time. Learn more about ProctorU by registering for a free webinar or visiting the MSU Denver ProctorU informational webpage. For specific questions, please contact the MSU Denver ProctorU representative.
Faculty are encouraged to visit the respective information webpages for each of the tools to determine which tools might meet their specific needs as well as any costs related to using them.
For assistance with these and other educational technology tools, including Blackboard Learn, please feel free to visit the new Faculty Commons in West Classroom room WC 243 (moved from CN 220) during our Faculty Support Hours.
Edit this page