November
Show your colleagues some love
The new gratitude walls allow employees to thank colleagues who went above and beyond the call of duty.
November 6, 2017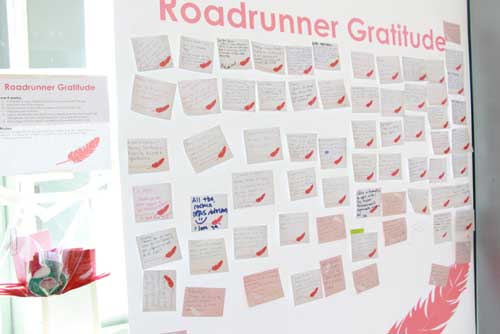 Once again, we're kicking off the holiday season with the Roadrunner Gratitude initiatives.
Roadrunner Gratitude is an effort within the MSU Denver community to spark expressions of gratefulness among faculty, staff and students for those who make MSU Denver a better place.
Express your appreciation for a colleague who helped you, who had your back or went above and beyond the call of duty.
Here's how it works:
Head to the main entrance of Student Success Building, the Admin Building or the southeast entrance of West Classroom.
Fill out a gratitude note for a colleague or student.
Tape the note to the display.
Share a photo of the note on Twitter or Instagram using #RoadrunnerGratitude.
Take a feather and deliver it to the individual as a symbol of gratitude. The delivery can be a covert operation or a public declaration.
Encourage that person to share in the spirit and fun with their own note.
This initiative in sponsored by the Council of Administrators in collaboration with Human Resources and will run until Dec. 1.
Visit our website at: www.msudenver.edu/roadrunner-gratitude
Edit this page