November
Davidson sits down with the Council of Chairs
The president stopped by the council's Nov. 1 meeting to talk department needs and empowered leadership.
November 6, 2017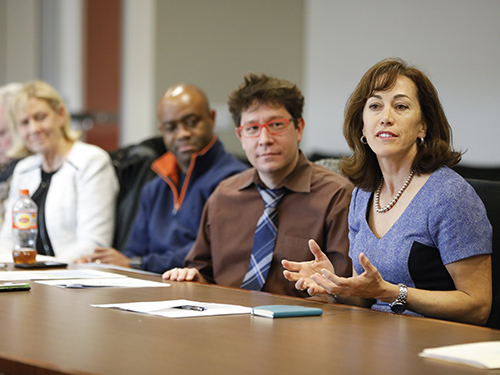 There was a special guest at last week's Council of Chairs meeting – President Janine Davidson, Ph.D.
Davidson sat down with the governance team to talk about her vision of inclusive leadership and how she sees that playing out at the department level.
"We can't move the needle on helping students achieve greater social mobility if we don't work together," she said. "Everyone has to have a seat at the table. But having a seat is just part of it. You also need to be empowered to do your jobs."
Davidson said that University leadership needs to "delegate down," a theme she has emphasized often since taking over as president this summer. She also expressed her deep appreciation for department chairs, noting the complex position they hold, at the intersection of student, faculty and administrative issues.
She tasked the group with defining what it needs in terms of authority for departments to run optimally. "What kind of policies, resources and training do you need so that we can all be singing from the same sheet of music?" she said.
After several clarifying questions, the council enthusiastically agreed to take up the topic. Davidson stressed that this was only the start of the conversation and that she was excited to hear their best ideas.
Layton Seth Curl, Ph.D., professor and chair of the department of psychology and president of the council, concluded the meeting on a note of gratitude.
"I'd like to thank you for being here," he said, "and I applaud you for hearing us." He noted that Davidson had already extended an offer for a follow-up conversation over coffee with members of the group. Additionally, the council's executive team will meet with Davidson in February.
Edit this page