November
Tickets now on sale for annual MLK Peace Breakfast
Award nominations are still being accepted.
November 2, 2017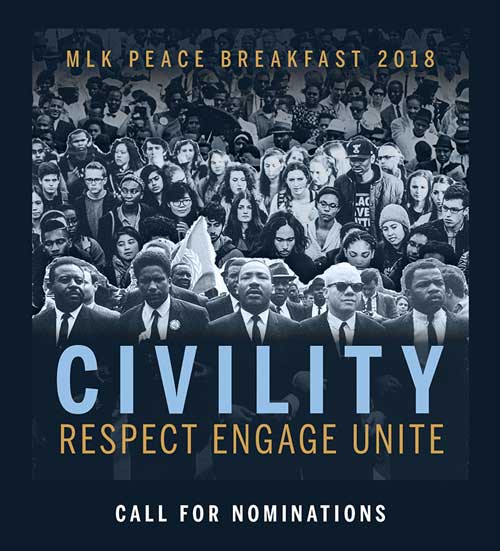 Tickets for the 2018 Dr. Martin Luther King Jr. Peace Breakfast are now available for purchase.
Buy your individual tickets or table today, as this inspiring event never fails to sell out. The highlight of the breakfast is the announcement of the MLK Peace Awards, which recognize a student, a faculty or staff member, and a community member who honor King's legacy through community activism, advocacy and involvement.
The theme is "Civility: Respect, Engage, Unite," and the 2018 event marks the 50th year since King's assassination.
There's still time to nominate a recipient to receive the 2018 award. The annual MLK Peace Award celebrates? members of our community who share King's dedication to peace, justice, diversity, equality, social change and compassion for all people. Nominations close Nov. 10.
The Dr. Martin Luther King Jr. Peace Breakfast and award presentation will be held Jan. 12 at 7:30 a.m. in the Tivoli Turnhalle, hosted by Metropolitan State University of Denver.
For tickets and nominations visit msudenver.edu/mlk.
Edit this page