November
5 improvements in Financial Aid and Scholarships
Financial Aid has made significant strides to make the process better for students.
November 2, 2017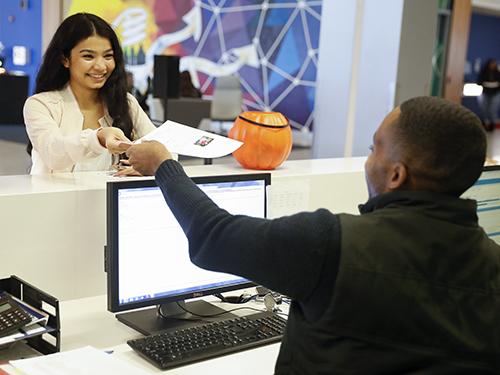 The Office of Financial Aid and Scholarships has made several advancements over the past year. The goal? Make the financial aid process better for students. Here are five examples:
1. Effective response
We are focusing efforts on timely response to student inquiries, especially by phone and email. On the email front, we have cut response time from several weeks to within two business days. We held this standard all the way through Fall Start-up, when we receive our highest volume of email inquiries from students. This is a remarkable turnaround and really shows the efforts and resources being placed in bettering Financial Aid customer service.
2. AcademicWorks really works
AcademicWorks is our new interface for MSU Denver Foundation Scholarship applications. For the 2017-18 academic year, we received 46 percent more scholarship applications than what we normally receive in a year. Though the initial year was a bit of a learning curve, we are planning several changes to the process that will make it even better and make all our great scholarship opportunities more accessible for all students.
3. Streamlined processes
Bottom line: This means better service to students. We have gutted the student financial-aid practices and procedures and worked hard to consolidate or eliminate requirements where we can. Our hope is that this will mean students will have fewer requirements or steps in the financial-aid process, leading to less frequent needs to interface with the Financial Aid office. This effort will also help reduce processing times. In fact, processing times have significantly shortened already! Faster processing times mean students get their information quicker and can start looking at their financial aid and preparing for their educational costs earlier.
4. Financial Literacy and Outreach
Financial Aid is developing a more proactive posture in getting valuable information out to students. With the help of faculty and staff university-wide, we are building more resources to aid the understanding of financial aid and promote personal economic well-being for students and staff. Our Outreach to new, prospective students is geared toward presenting Financial Aid as the helpful resource we are to students. We fully acknowledge that some of our communications and interfaces with students might not have represented us as the friendliest place on campus to visit, and we are determined to change that impression!
Our internal outreach is geared toward developing relationships with departments, colleges and schools to build financial literacy and base financial-aid info university-wide. The idea being that if we have enough information at various touch points with students, then a productive conversation about potential financial barriers could be addressed almost anywhere the student chooses to discuss them.
5. Clear communications
Financial Aid is in the process of reviewing all forms of communication sent or available to students. We are doing our best to replace financial-aid jargon with easier-to-understand information and guidance. We are focusing on consolidating several pieces of communication to cut down the student email inbox load and working to direct students to better resources for financial aid on our website. We are also looking to create proactive communications to students regarding their financial-aid status and check-ins so students have a clear idea of how their educational decisions may affect their aid eligibility.
Edit this page