October
A pat on the back!
William Huddy, Jason Rice and Lin Huang have done some terrific work.
October 19, 2017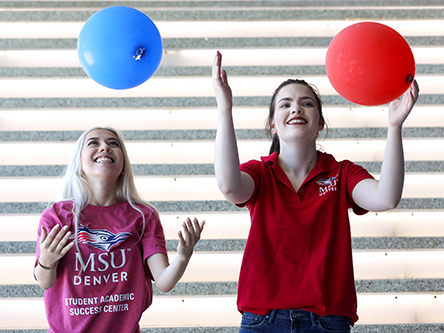 Communications and arts studies lecturer William Huddy, Ph.D., chaired the Centre for Media and Celebrity Studies fifth International Conference on Aug. 31-Sept. 1 in New York City. The conference, titled "Bridging Gaps: Where is the Critic in Television Journalism?" was sponsored in part by CMCS and the City University of New York School of Journalism. Presenters exhibited their work in all areas of media studies and examined the role of the celebrity today. Keynote speakers included Andrew Mendelson, P. David Marshall and Timothy Harper.
Twelve MSU Denver students, guided by two instructors, including Chef Jason Rice, made their culinary mark alongside 30 of Denver's top chefs in the third annual "Taste of the Broncos" on Sept. 18 at Sports Authority Field. Von Miller, Brandon McManus and Brandon Marshall were among the 40 players, and roughly 1,000 guests, in attendance. MSU Denver students also participated in the VIP reception, held in the Broncos' locker room and hosted by John Elway, Broncos executive vice president of football operations and general manager.
Lin Huang, Ph.D., assistant professor of engineering technology, has been recognized on the OnlineEngineeringPrograms.com blog "20 Professors in Engineering Technology to Know." The list comprises some of the outstanding professors and universities in the field that are being recognized for their contributions to academia. Since 2010, Dr. Huang has served as the editor-in-chief for the International Journal of Machine Learning and Computing and is a member of the Institute of Electrical and Electronics Engineers (IEEE). Dr. Huang's areas of expertise include integrated circuit design, computer vision, pattern recognition, signal processing, biometrics and embedded system design.
Edit this page